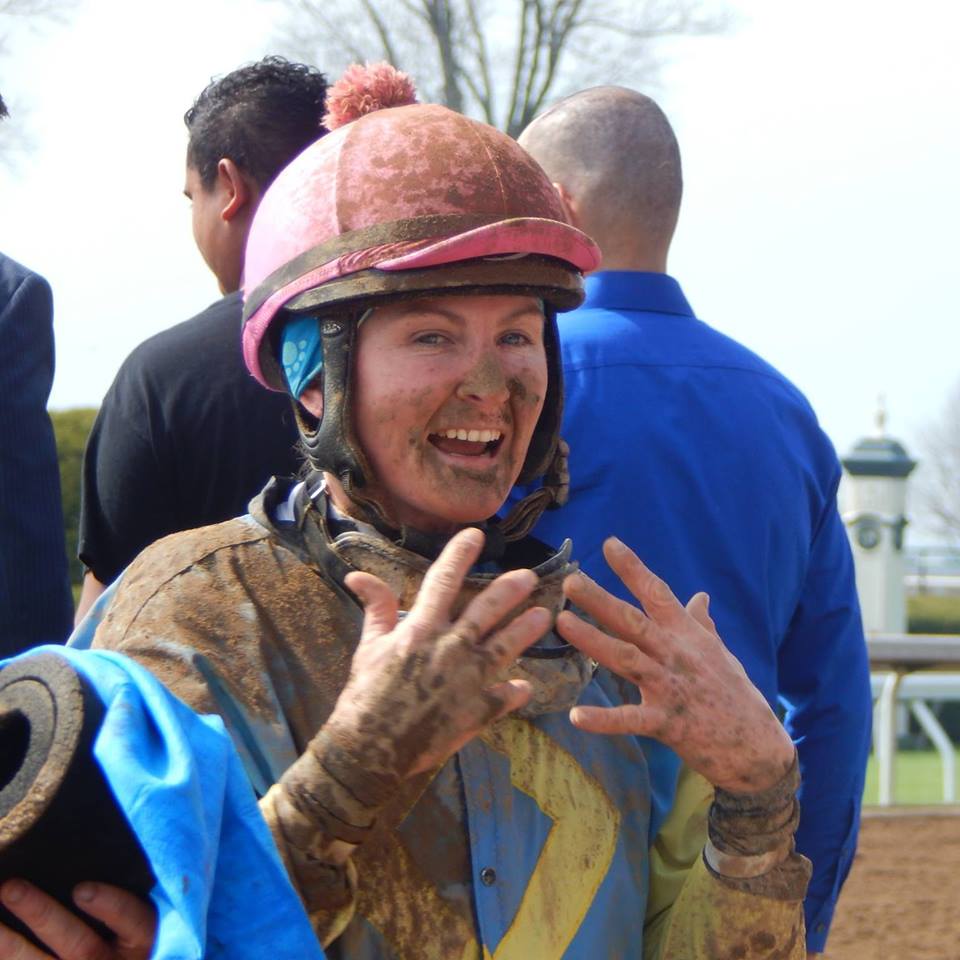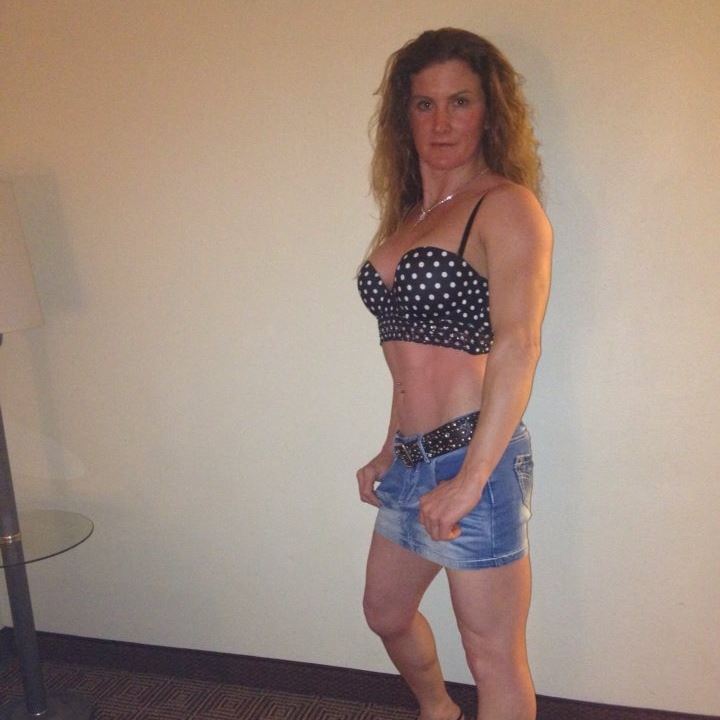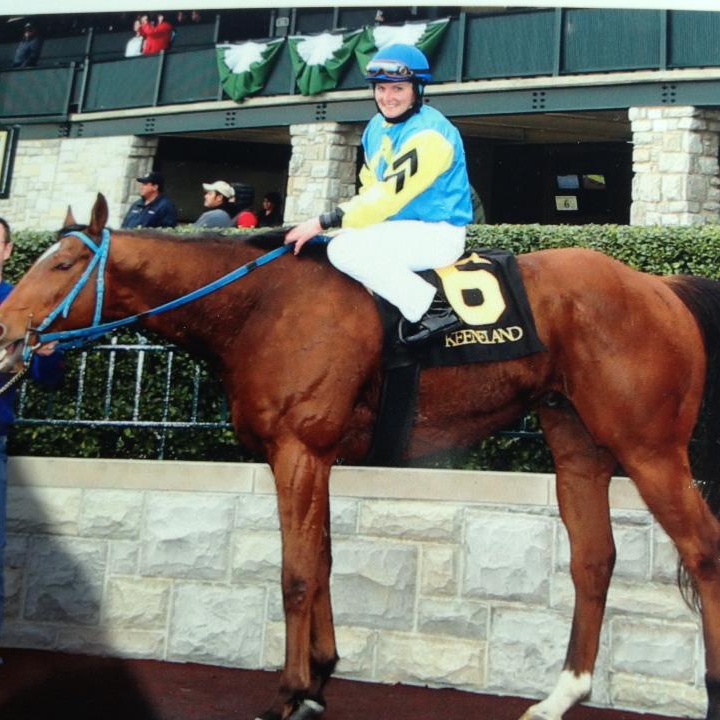 Arienne Cox
Arienne Cox is a jockey riding at Presque Isle Downs. Here is her story so far:
FOTH: Where were you born, and where did you grow up?
AC: I was born in Miami, Florida. I lived there until I was 14 then my family moved to the Ocala, Florida area and bought a farm so that we could have horses and ride them a lot more.
FOTH: So at that age, did the thought of becoming a rider interest you a lot?
AC: As long as I can remember, I knew I was going to be a professional rider, I was picturing going to the Olympics, as I had never even seen a horse race.
I started taking riding lessons when I was 9 years old. I rode show horses and as I got older, I started eventing. I also would get cheap/free mostly unbroken or poorly broken horses, train them to be good for amateur riders and sell them. I eventually started breaking young Thoroughbreds in Ocala that were going to go to horse sales, pin hook horses. When I didn't get a couple of the horses sold at the sale I decided to take them to the races at Calder Race Course. That's when I decided that rather than prepping them for a race and naming a random jockey on, that I would ride them myself: as an Owner, Trainer, Jockey.
FOTH: Wow. You are the first rider I ever interviewed who went down that road. So who would you say was your best teacher so to speak?
AC: Well, my life partner of about 24 years, Wayne Rice and his family knew the racing industry so well that I couldn't help but learn from them. Wayne was a jockey when he was young and trained horses when we met. So he taught me much of the race riding skills and strategies. His father, Clyde Rice was a trainer and his brother, Bryan Rice and sister, Linda Rice are all very successful horsemen in the racing industry and they all have had a big part in developing me as a rider and horseman in general.
FOTH: So what actual tracks were you an ex-rider at prior to taking out your jockey license?
AC: I had never ridden at a racetrack that held races until I went to Calder at 29 years old. I started galloping racehorse babies when I was 20 and had worked for many different trainers. I had galloped at many training tracks in Ocala, so I knew the rules of the racetrack. In Ocala, it is not uncommon to ride 25 horses before lunch, so I had more experience than the average racetrack gallop girl.
FOTH: What was the feeling like having an actual jockey license in your hand, which I will assume was from the state of Florida?
AC: I had been talking to the clerk of scales and the Stewards during the first 30 days that I was at Calder about getting my jocks license. I had a horse that I knew needed to go long, like very long, a marathon ideally. He had just run 3rd for 16,000 NW2 and 2nd for 10,000 NW2. A stake race going 1 ½ miles came up and I entered him in it. I didn't know what jock would give him an honest shot, so I broke, breezed a filly of mine out of the gate the morning of the race to qualify for my jocks license, and then named myself on. I never claimed the bug and because of that, I talked the Stewards into letting me ride with my whip in my very first race. We ran 3rd. So I basically got my license @ 11am and rode my first race at 5:30 pm. On borrowed tack with a big smile.
CF: So tell me about your first win. What track was it at? Did you win in a photo or by a lot? What was it like jogging the horse back to the winner's circle?
AC: My first win was on Blue Mon, who was also my first mount. I gave him a little rest in Ocala after a long, hot summer season at Calder. I found a race at Mountaineer Park Race Track on December 9th going 2 miles. After the first 1/2 mile I was last by 36 lengths, after 1 1/2 I was still last by 16 lengths, I passed the field at the quarter pole like they were tied to the fence. I won that race by 18 lengths. Well it was 17 degrees and I felt like I had finally proven to myself and my family that I was a professional rider.
FOTH: What was it like going back to the winner circle for the first time?
AC: I was elated. I couldn't wait to do it again.
FOTH: With it being so cold the jocks must have got you in the room. What did they get you with and did you know it was coming?
AC: Since I had shipped in, was not claiming the bug, and was 29 years old, nobody knew it was my first win. I think the only time they actually tried to figure out who I was, was after I beat them.
FOTH: Ha Ha. So early on, what was your home track so to speak?
AC: Presque Isle Downs has been my home track, one that I stay for the entire meet and own a house 4 miles from the racetrack, for 12 years. I love the synthetic track. It is safer than dirt and turf statistically, so my horses run longer and more often.
FOTH: I have always wanted to go there. Now I know they have a casino there, but what are the crowds like for live racing?
AC: They have dollar hotdog night/dollar beer nights that brings out lots of families, so kids screaming and running around. On most big nights, there are a couple thousand spectators. Nothing like I have experienced at Keeneland or Churchill but plenty of young fans to talk to after I unsaddle my horse and go back to the jocks room.
FOTH: Did you ride or just gallop at Keeneland/Churchill Downs?
AC: I have been going to Keeneland and riding races every spring for 7 years. I take the winters off and travel, so going to Keeneland allows us to get the horses their first starts for the season, prepping for Presque Isle. After Keeneland ends, I ride a few days at Churchill before shipping to Presque Isle Downs for the summer. I love the environment at Keeneland. Everybody loves racing, jockeys are celebrities and it is also a great place to educate 2 year olds.
FOTH: So what is a typical race day like for you these days?
AC: I get up at 4:30am; get to the track by 5:30am. Feed, walk horses, maybe do a couple of stalls then get on my first one at 7am. I ride between 10 and 14 head before the track closes at 11. Then I go home, work in my garden, play with the dog, and take a nap. I go back to the jocks room at 4:30pm and ride a couple races. Our last race is at 8:20, so by the time I check our barn and horses after the last; I get home around 10pm.
FOTH: So any idea how long you would like to ride for?
AC: I will ride horses for the rest of my life, but as for riding races, I am not sure. I am 5'6" and super muscular, so I work pretty hard to be light enough to ride races. As long as I enjoy what I am doing, I will continue. (see one of the pics I post and she isn't kidding-cf)
FOTH: What do you think tracks should try to do to bring out crowds to see actual horseracing and not just the casino?
AC: I was just reading a report written by the Jockey Club on 2018 racing trends and one thing that stood out is that 64% of fans are introduced to racing by going to the track. So this is a very important issue for our industry. I believe that in order to get bigger crowds there are a few strategies.
-Starting with making attending the races more affordable with less expensive food and drinks, no admission fees, and reasonable program costs. -Frequent giveaways, from the winners circle, for instance. Fans line up to catch shirts, hats, and jocks goggles being thrown into the crowd by the winning jockey after a race.
-Bringing in after the races bands a couple of days a week.
-Having "meet the jockeys and trainers days" where the fans can get to know the participants. Maybe even allow fans to pet/ take pictures with one of the Outrider's ponies.
- It is not good enough to implement these strategies; they must advertise that they are going on locally.
FOTH: That is a fantastic answer and I agree 110% with your answer. Do you have fear or injury at all and have you suffered any?
AC: I have no fear of injury during races, in fact not only have I had more injuries in other sports that I participate in (soccer and skiing), during the race there are a maximum of 12 horses, all going the same direction, at pretty much the same speed with stewards watching cameras and looking for fouls during the race. The morning training is much more hazardous with many more horses (sometimes over 100 at one time depending on the track), going forward at different speeds, going backwards around the track, and just standing. I have not had any significant injuries during a race. Other than a bruised foot or elbow from when a horse comes out of the gate crooked. I am lucky to have been able to ride at racetracks with some of the best, most competent jockeys in the world. We are all competitive; however, we never forget that we all want to go home safely at the end of the night
FOTH: If you were not a jockey what do you think you would be doing with yourself these days.
AC: Even if I were not riding races, I would still be training horses and competing in some venue with horses, as horses are what keep me balanced in my life. As for a profession, I am a Registered Nurse and I have Bachelors in Business, so I would probably utilize these degrees in some way or another. That day will come for me, but every time I choose to close one door, one always opens, sometimes in the most unexpected of directions.
FOTH: If some young girl came up to you and wanted to become a jockey what advice would you give her.
AC: This has happened many times, my advice is ride horses, lots of them, take riding lessons, volunteer to work in neighborhood stables, get very good at working with horses on the ground and in the saddle. While doing that go to school, get a good education, and learn about other things, besides horses. Then go to work, find a riding job, work hard, gallop/ train as many horses as you can physically do, as the more experience you get, the better you will be. Then go to the racetrack, develop relationships with trainers, be seen riding out in the mornings (maybe even wear bright colored shirts or jackets every morning), develop people skills and a thick skin.
This business is a male oriented business; we compete as equals with men so you must get tough and become "one of the guys". Most of the trainers are men and most of the owners are men, so understand if they choose a male jockey, it is not personal. In order to compete for mounts, women have to actually be better than men, in speech, in analyzation, in concepts, and in performance, which I really don't think is a problem. So, just work hard, be smart, be tough, and enjoy all the ups and don't let the downs of this business bother you too much.
FOTH: Have you, do you think been treated pretty fairly do far in your career?
AC: There have been instances where I have been treated completely unfairly, jocks saying I was a hazard, even though I had not had a jocks/trainer inquiry or a steward's inquiry for the whole meet. They wanted me gone, but I persevered, never left, and am the elected President of Presque Isle Downs Jockeys Inc.
FOTH: Good for you. Do you have a favorite horse and/or trainer that you have rode for?
AC: Favorite horses would be Blue Mon (72 starts for $190,768) and Tahoe Warrior (105 starts for $479,576). Both were war horses that loved the game. They both ran till they were 13 years old, I even won a race at Keeneland with Tahoe Warrior when he was 10 years old.
My favorite trainer is Wayne Rice. We have developed a great partnership over many years. We have created a business that was not normal for the industry and we have educated everyone around us that you can do things a bit differently. It is gratifying to see the younger generation horse trainers and jockeys being successful in a non-traditional way.
FOTH: Ariennne, thumbs up for this fantastic interview, any last words to wrap this up?
AC: This has been a great trip back to how my crazy jockey career started. Maybe one day I will get a "Real Job". Thanks footboy for your interest in the amazing female athletes that participate in one of the most challenging, life changing changing careers ever.
If I ship down to Parx Racing, we will get together footboy ok. (think I am in trouble lol-cf)