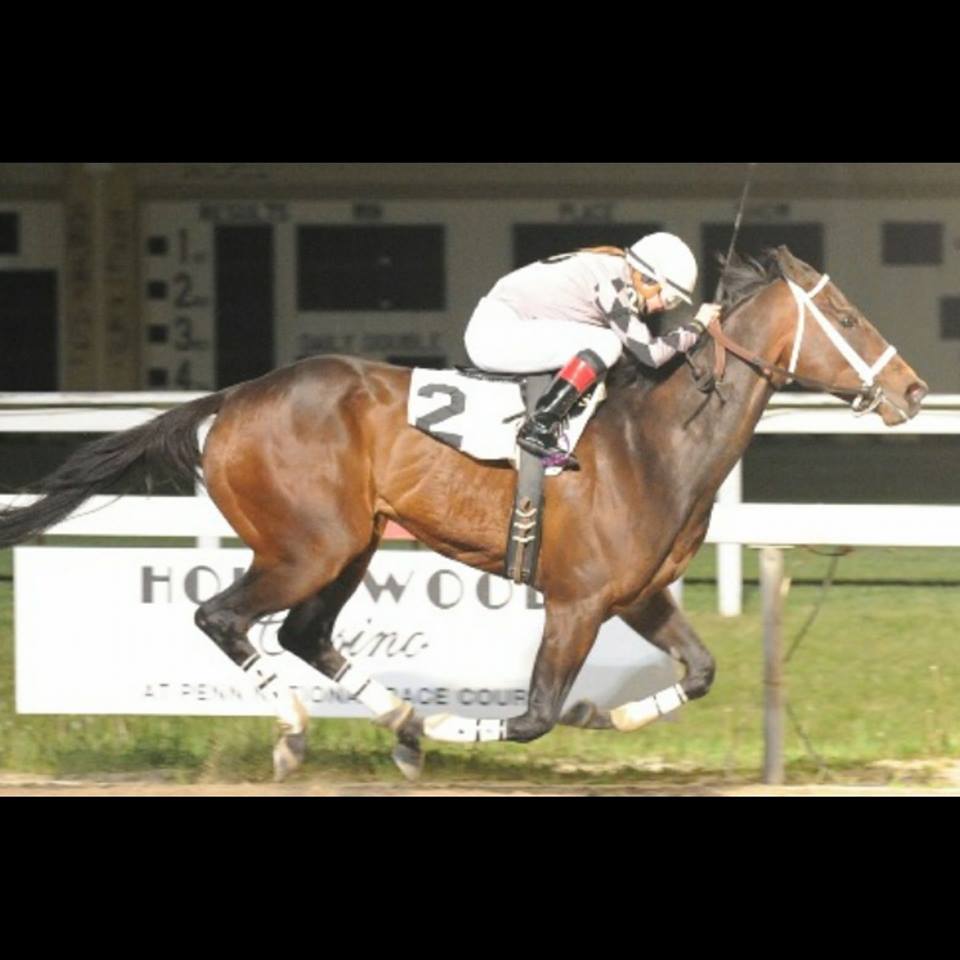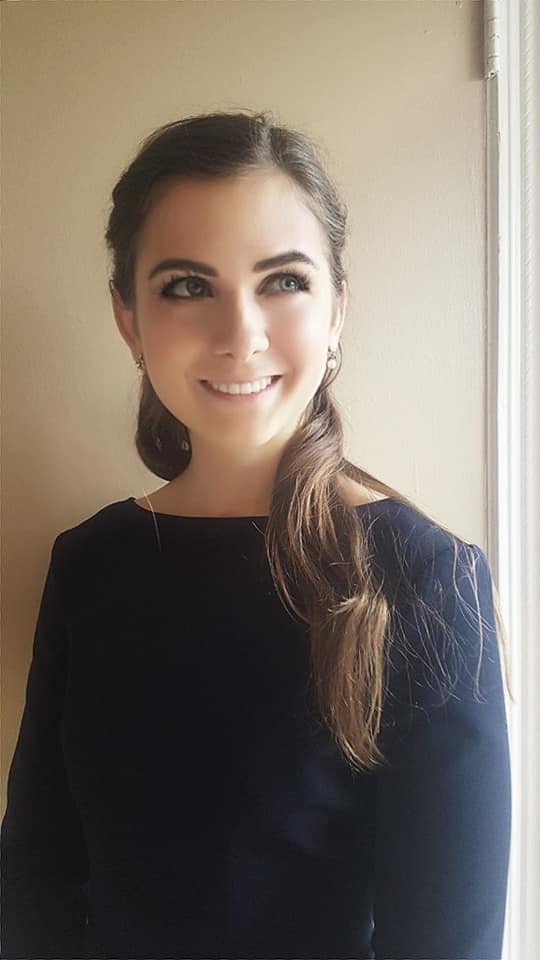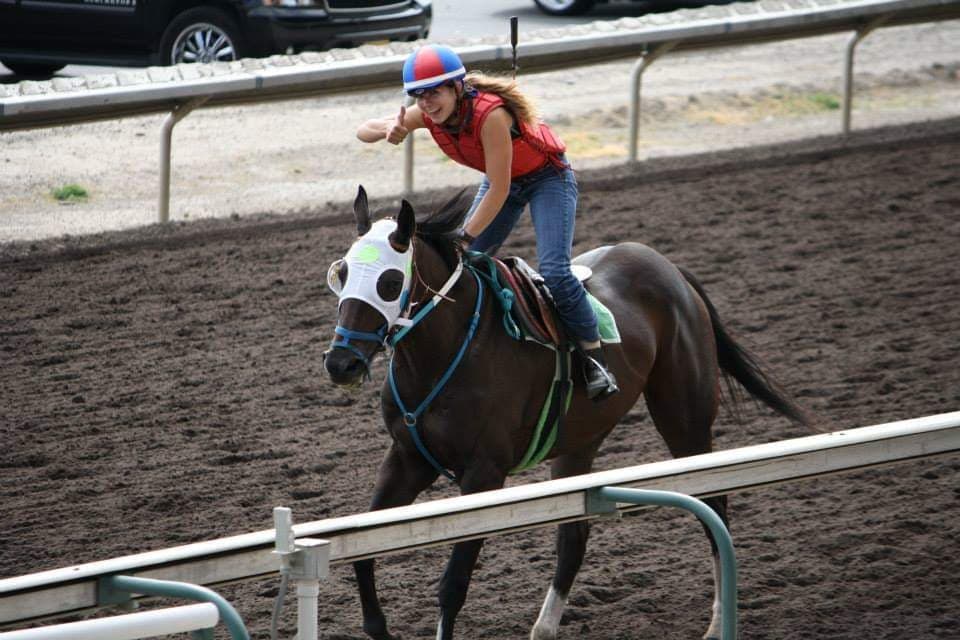 Cassidy Burg
Cassidy Burg is a jockey that started out West before heading East. Her home track is Penn National, and here is her story:

FOTH: Where were you born, and where did you grow up?
CB: I was born in northern California, but I was a military brat so we moved every few years. I also lived in Washington, Ohio, and New Hampshire. However, I spent the most time growing up in California.
FOTH: What sort of girl were you growing up? Were you a tomboy like most of the other female jockeys I have interviewed over the years?
CB: I'm not sure I would say tomboy exactly. I was not overly girly, but not a stereotypical tomboy either. I was really very quiet. I didn't talk much; however, my family always said I never met an activity I didn't want to try. I played soccer, basketball, volleyball, did karate, ran track, danced, and was also very much into acting in plays and things like the chess club. I always wanted to try new things and learn as much as I could. My favorite pastimes were reading, origami, and magic tricks, so I suppose I was a bit of a dork. Horses were a constant passion, of course.
FOTH: So at a young age, did you have a love for horses, or did that come later on?
CB: That was there from the very beginning. I have a picture of me at 6 months old on a horse, and my parents say I cried whenever they tried to take me off. I started taking lessons when I was 2 years old and did 3 day eventing growing up. I was definitely the horse-crazy child.
FOTH: What did you want to be when you grew up?
CB: The first thing I was ever really set on was being a jockey. I briefly toyed with the idea of being a pilot, photographer, or translator. I do have a passion for studying languages, so had I not had the horse gene, I probably would have gone in that direction. Horses were an expensive passion, and I realized early on that vet work wasn't for me, so I didn't really know what else I could do as far as a viable job. As soon as I had the idea to become a jockey, everything just clicked. It was all consuming, and I never looked back.


FOTH: So take me through your steps of becoming a jockey.
CB: Well, for the longest time I never thought it would be an option. I have been 5'3" since I was probably eight or nine, so I was giant for my age and therefore the idea of becoming a jockey never seemed possible. I remember watching the 2012 Derby when I was fifteen and it hit me that I hadn't grown in five or six years and I was the right size. I knew then that there was no other path for me, but I had no connections. We had recently moved so I wasn't even riding. I tried to research online, but there is little to no information about how to actually start on the path to becoming a jockey. I found barns to ride at and just tried to find anyone who would give me information. Finally, a family friend mentioned that she played golf on the infield of the Pleasanton Fairgrounds Racetrack, and that there were horses there year round. I knew they ran for a few weeks during the fair, but I did not know they were there all the time. So I just showed up. I walked up to the rail and a group of trainers and introduced myself. I said I would do any work there was, just get me on the backside. A trainer by the name of Melanie McDonald took pity on me and let me come back and clean tack and stalls for the day. She ended up helping me get my groom's license and I worked for her full time for a year or two. From there, I started freelance exercise riding, and did that for a couple years at Pleasanton, before moving to Golden Gate Fields with an agent. I exercise rode there for an entire year before actually riding races. I didn't want to rush it, since I knew you only get one chance at a first impression. In a less long winded summary, I just showed up and worked my way through every job on the backside to learn as much as I could, always with the unwavering goal to become a jockey.

CB: Do you mean on the racetrack or in general?


FOTH: In general.
CB: I honestly don't remember learning how to ride. I was on a horse before I could walk, so I can't remember a time I ever did not feel perfectly comfortable and at home on a horse. I took lessons from two years old and up from a wonderful lady in Washington named Vicki Foote, so she is the one that really got me started. As far as being confident on a horse, I'd say it is the most natural thing in the world to me, but that's not to say that learning how to ride at the racetrack was easy. That is an entirely different style in itself.


FOTH: How long did you gallop or get on horses before you got your jockey license, and what was it like holding it in your hand?
CB: I galloped for a little over two years before riding my first race. I actually didn't get to hold the license in my hand until the morning of my first race. There are no words to describe how it felt. The anticipation was overwhelming.


FOTH: So where was your first race? How nervous were you in the jock's room, and then getting loaded in the starting gate?
CB: My first race was at Golden Gate Fields. I actually rode 3 races that first day, six furlongs, a mile, and then a mile and a sixteenth on the turf. I was definitely nervous, but I think excitement outweighed it. The only other female rider at the time was Anne Sanguinetti, and she wasn't named on anything that day, but she came out to be with me in the room to make sure I wasn't alone. The girl's room at Golden Gate is not anywhere near the actual jock's room. You have to walk almost to the other side of the grandstand, through the paddock, and it is actually underground. She helped explain the timing of everything as far as weighing and other logistics since we were so far removed from the rest of the jocks, which I was extremely grateful for. Other than that, I honestly don't remember much of anything in the room before my first race, or even the rest of the time in the room that first day. The excitement of it all blurs it together; it was truly like living in a dream. I only really remember the moments spent on the horses. My first race I was on a horse that I'd never even ridden in the morning, so I mostly just tried to focus on him and getting to know him in post parade. I was nervous getting loaded, of course, but like I said, it was a good, excited kind of energy, the dream-come-true, is-this-really-happening kind of energy. I had spent so long working with everyone in the morning that I was very comfortable with all of them, and they made it a great first experience. I do vividly remember that I had 2 brand new pairs of goggles that had never been used, and I hadn't thought to tighten them. As I went into the gate I went to put them down and as the gate shut they fell off my face! My gate crew guy rapidly pulled them back on moments before the gates opened. That moment, where I thought I might accidently be riding my first race without goggles, was probably the only moment the nerves might have slightly overpowered the excitement jitters.
FOTH: Cool story. Now tell me about your 1st win. What track was that? Did you win by a lot or in a photo? What was the feeling like jogging the horse back to the winner's circle?
CB: I was at Golden Gate Fields, and it was a mile on the turf. I won by about a length, so it wasn't a photo, but it was close enough to still feel the pressure behind us! I cannot even begin to describe the feeling. I crossed the wire and could not quite believe that I was actually still in front. As we galloped out, all the jocks were cheering, and I was just in disbelief. I could not stop smiling and loving on my horse. "Shesheisnot" was her name. It was actually her last race before she retired, so I always felt like she had given me a little gift, and I am honored to have guided her in her last victory. I had never been on her before that race, but she was trained by Tim McCanna, who I had been galloping for the last year, so it was fitting to have my first win be for his stable. The race itself was picture perfect: we sat second for the first half and around the turn, we started to go. I distinctly remember going by the leader so easily and just trying so hard not to mess anything up!! The Equibase chart actually says, "hung on stubbornly" which I think captures it perfectly.
I was absolutely elated. It is hard to beat that feeling. It was the thing I had been dreaming about for so many years and that emotion is almost impossible to capture in words.
FOTH: I imagine the jocks got you pretty good after the race. What did they get you with, and did you know it was coming?
CB: I definitely knew it was coming; it's a rite of passage! It was the usual stuff, ice water and shaving cream, I believe. It just adds to the excitement to have the other jocks get so excited with you.
FOTH: So after getting that first win, was that a big thing off your shoulders?
CB: I would say so. I had a lot of close seconds before that, so it was definitely a relief to get that monkey off my back and prove I could do it. It made me eager to get back out and keep improving.
FOTH: So far, has being a jockey what you thought it was going to be?
CB: I would say so! Of course, with any dream there are going to be things you learn and experience along the way that were not a part of your perfect vision of grandeur, but when it truly is your passion, that does not really matter. I do not think when I started out that I had even an inkling of what I was getting myself into, but I also had no clue how amazing all the good parts, that I had never even dreamed of, would be.
FOTH: What track are you riding at these days?
CB: The last few years I was based at Penn National and shipped around the circuit up there. I actually took the winter off for a working holiday in Florida. Pennsylvania winters are relatively awful, especially for a Cal-bred like me who hates the cold with a passion, so I sought out warmer weather and took an opportunity to work with some younger horses, which I had never done before. I felt this experience would improve me as an overall rider and horseman. I am currently in the midst of figuring out my summer plans of returning to race riding.
FOTH: If a young girl came up to you and said she wanted to become a jockey, what advice would you give her?
CB: That is a tough one. I think the kinds of people that end up becoming jockeys are the ones who really don't care what they are told. Everyone I asked for advice said don't do it - I was too tall, too inexperienced, female, etc., and I did it anyway. If someone tells you it's a bad idea, and you accept that, and walk away, then you are probably not the kind of person that should be riding. So I guess my advice would be that it will be tough, but if it is your dream and your passion, then just don't ever quit!!
FOTH: Cassidy thumbs up for doing this interview, any last words to wrap it up?
CB: I think we pretty much covered it footboy lol, now go kiss some female feet lol.