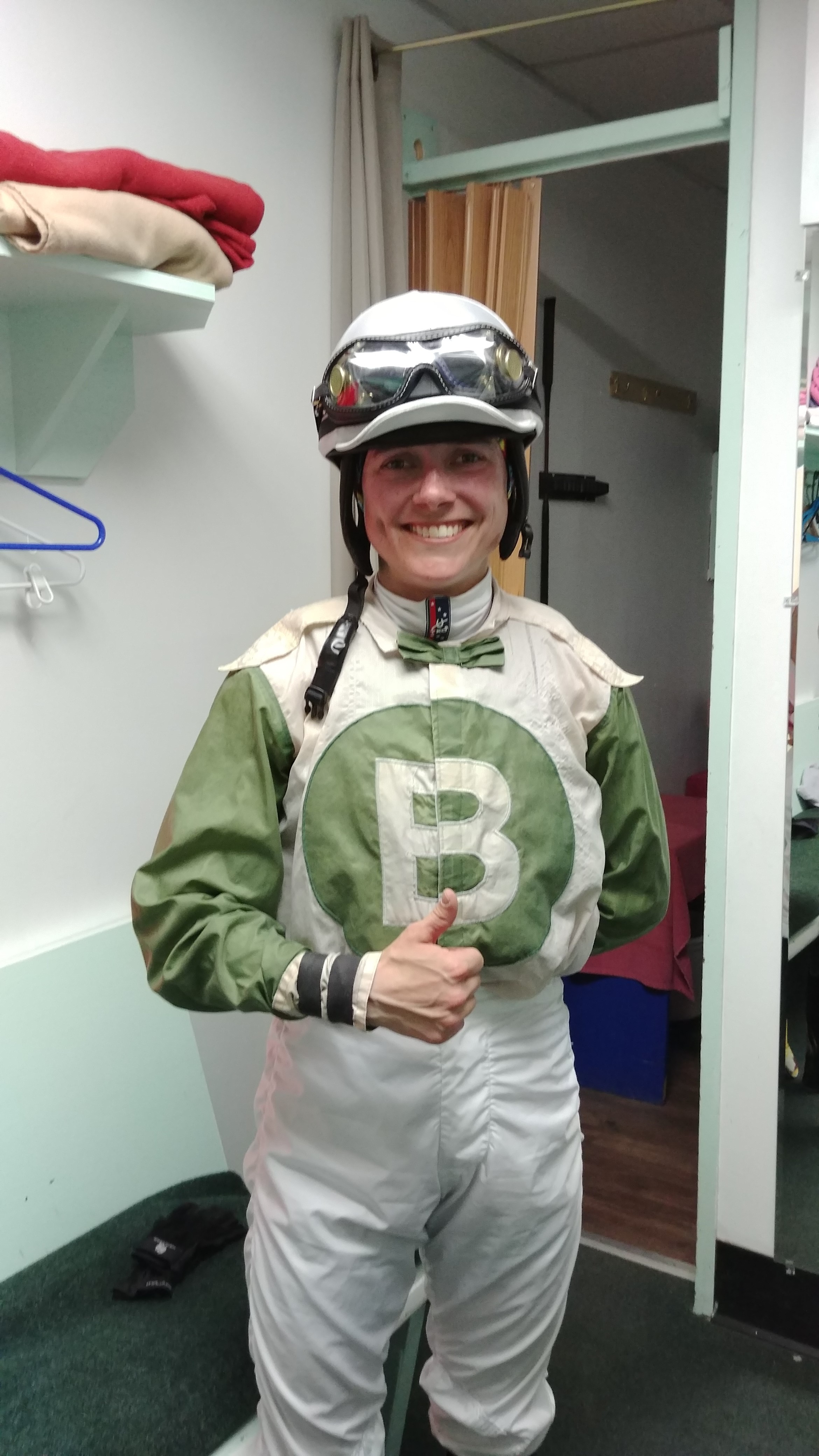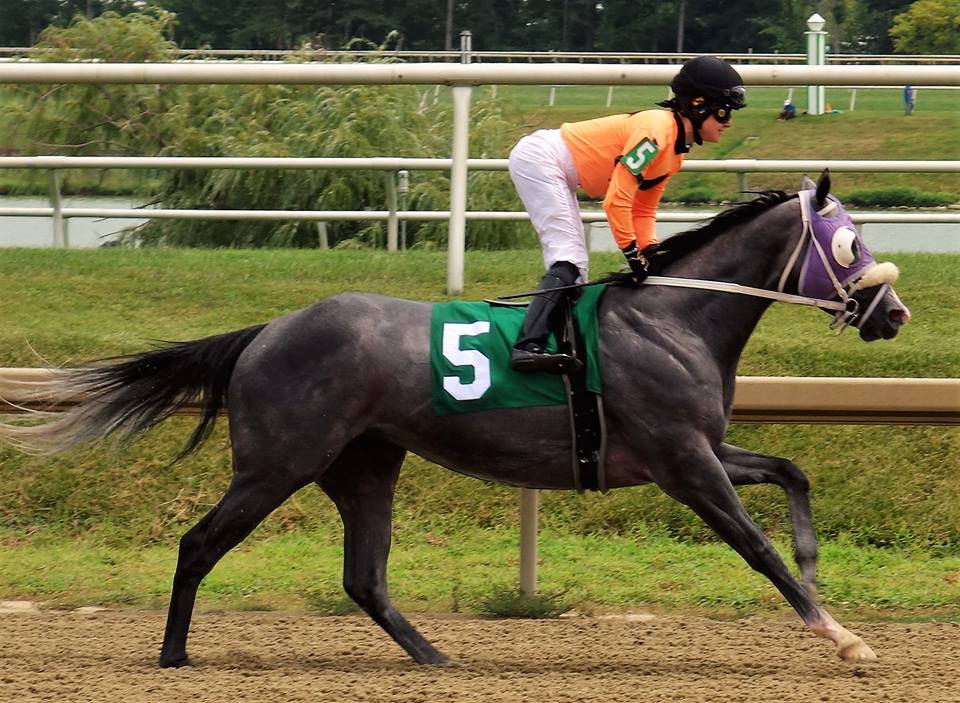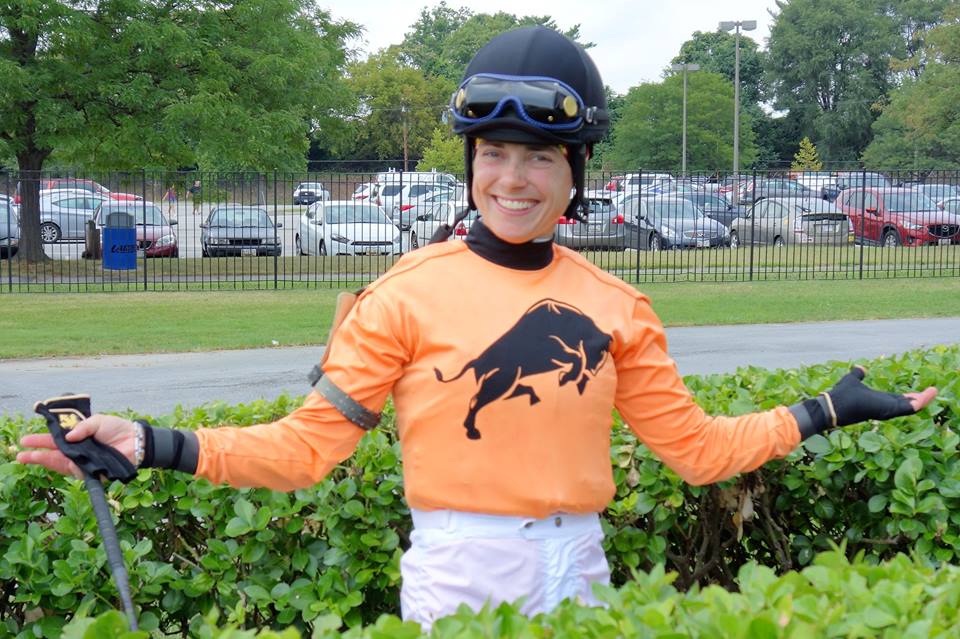 Jenn Miller
Jenn Miller is an apprentice rider that is riding at Laurel Park and also makes trips to Parx Racing, Delaware Park, Penn National, and Monmouth Park. Here is her story so far:
FOTH: Where were you born and where did you grow up?
JM: Wales, Massachusetts.
FOTH: What sort of girl were you growing up? Were you a tomboy like a lot of other female riders I have interviewed?
JM: I was definitely a bit of a tomboy. I loved playing outside climbing trees, or running around with friends, either pretending to be riding horses, or pretending to be horses. That being said, I had no problems curling up with a good movie or book on a rainy day.
FOTH: What did you want to be when you were growing up, and what were some things you did for fun back then?
JM: The first career goal I remember having as a child was "wanting to save the world." Originally that meant the environment, a little later it referred to saving people. Of course, I was still too young at that point to really explain how I might go about saving the world. In high school, my career goals changed to politics. I figured I could go to college, go to law school, and be elected as a senator from Massachusetts - since the state seemed to have a tendency to leave senators in office for life. It sounded like a great way to bring about change over many years, not to mention job security! Eventually though, I realized I'd rather wake up and do something I love every day - hence moving toward a career with horses.
What I did for fun was hiking, camping, dance (particularly competing in ballet and clogging), Girl Scouts, basketball (in 6th grade I was the tallest girl on my team - for all of about 3 months), and various after-school clubs. I also enjoyed road trips. I was fortunate enough to do a lot of traveling on summer vacations to various parts of the U.S.
FOTH: When you saw a live horse race for the 1st time, what was your impression of horse racing?
JM: The first live race I saw was at Suffolk Downs. I thought the horses were absolutely beautiful, and the ride must be thrilling. I was still pretty young, so I remember wanting to run from the paddock to the track to keep up with the horses so they were never out of my sight. I loved the sport from day one - it looked like a big game for the horses, and I loved watching how some were cool, calm, and collected, while others looked so excited and ready to go they could hardly contain themselves - just like people.
FOTH: Now when did the idea come about, going to work on a racetrack, and what was your first job there?
JM: I was working as a dressage trainer, and heading to Florida for the winter show season. Since I was just starting out on my own, I needed a job where I could make a little extra money. A friend of mine happened to need a hotwalker/groom/pony person in the mornings, and that fit perfectly into my schedule since dressage people typically prefer to have their lessons and work their horses in the afternoon. A couple weeks into the job the trainer, David Nunn, let me gallop my first racehorse. I had not expected to have a chance to gallop a real racehorse, but I was utterly unprepared for how quickly I would fall in love with it.
FOTH: Now when you started working at a racetrack, did you know at the time you wanted to become a jockey, or did that come later on?
JM: About two weeks after my first gallop, I was sure I wanted to be a jockey. At first, I wanted to be an exercise rider, but when I started doing gate work with a baby, I got hooked on the thrill of leaving the starting gate. And the more I breezed in company, the more I wanted to ride races.
FOTH: Did it feel natural getting up on horses?
JM: Being on a horse has always felt natural. My family got our first backyard horse when I was 10, and I spent as much time either in the saddle or bareback as I could. Transitioning from a dressage riding position to a galloping position was a little strange at first, but once I developed the muscles, standing in the irons really felt as natural as sitting on the horse's back. Ultimately, it's all about balance, moving with the horse, and communication.
FOTH: Who taught you how to ride and what was the best advice you were given at the time?
JM: I can't say just one person taught me how to ride - I'm still learning how to ride from a lot of people. David Nunn started me out galloping when I knew nothing about it. Then I spent a while fine tuning those skills with Rosie Napravnik and Joe Sharp. But over the last couple of years, I have received advice and lessons from countless jockeys, exercise riders, and trainers. I think the best advice I received was when the horse starts getting too worked up (especially going to and from the track or warming up with a pony), kick your feet out of the irons and grab the yoke (or mane). Both David and Rosie told me that a few times. Now this is not about riding specifically, but one of the best pieces of advice I got about the business in general was from my agent, Ronnie Gerardo. He said don't stress over the things you can't control. That is definitely something I would tell to people just starting out in the business. It's important to work hard and care, but stress is counter-productive.
FOTH: So now at what point did you decide it was time to get your jockey license? Was there like a moment where you said to yourself ,"it's time," or did other people just encourage you to go for it?
JM: I spent a couple of summers riding amateur races before I applied for my apprentice license. Last summer, Joe Sharp let me take off opening weekend of Saratoga so that I could come down and ride the amateur races that ran at Laurel, Delaware, Penn, and Parx. When I got back to Saratoga, Joe and I sat down and talked about how my riding had progressed, and when might be a good time to start. Joe suggested that when we shipped back to Kentucky after the Saratoga meet was over, I should start talking to the stewards and the gate crew to get the process rolling.
FOTH: What did your parents think when you told them you wanted to become a jockey? Have they seen you ride live yet?
JM: My mother and step-father were there for each of my amateur races, flew to Kentucky to watch my first race against the pros at Keeneland, went to Parx for my first win, and have seen me in person a number of other times. My mother never misses watching a race, even if she has to stop at work to watch it on her phone. She's been very supportive and was very excited when I told her about my plans to be a jockey, because she could see how excited I was about the idea.
FOTH: Now for those who don't know, take me through the last actual steps of getting your jockey license, and what was it like actually having it in your hand?
JM: Well, the specific steps vary a little from state to state. In Kentucky, after getting approved by the starter, getting verbal recommendations from two journeymen, and written recommendations from three trainers, I had to ride three races before I could actually get my apprentice jockey license. I rode the first two at Keeneland, and the third at Churchill Downs. I'll never forget getting back to the room after that third race, and the clerk of scales handing me the phone with a very serious look on his face. I answered, and Barbara Borden, the Chief Steward, said, "Congratulations Jenn, I've already talked to the licensing office and told them you'll be on your way over there in just a few minutes to finish the paperwork!" I ran from the jock's room to my car to make sure I got to the office before they closed for the day, and I could hardly contain my excitement!
FOTH: So take me through your first race which was back in 2015. Were you nervous in the jock's room? What track was it, and where did you finish?
JM: I was really more excited than nervous. It was an amateur race, so that took the pressure off a bit. The race was at Delaware Park, and I finished 5th aboard Miss Modela. I had been galloping her for a few months already, so I knew her, and knew I could trust her to take care of me in the race.
FOTH: What was it like for you getting that first race out of the way?
JM: It was a thrill. I didn't feel like I was "getting it out of the way," because I loved every moment of it and couldn't wait to do it again.
FOTH: Now take me through your first win. I know it was at Parx Racing, and you won by a lot. Did you think, in the paddock before the race, that that was going to happen? What was it like jogging the horse back to the winner's circle?
JM: I never say before a race that I will definitely win - I don't want to jinx myself. But I was feeling pretty confident that Exclusive Symphony would win. She was the only speed in the race, and definitely the best horse in the race. So really, as long as we broke clean, and I didn't fall off, I could count on her to take care of the rest. Even though the filly deserves all of the credit for that win, it still felt pretty awesome to head back to the winner's circle!
FOTH: Now I know the jocks got you good after the race, because I have seen the pictures. Now, Parx has steps before you get into the actual Jock's room, so, as you were getting ready to head up the steps, did you know what was coming, and what did they get you with?
JM: At first I thought they would probably get me on the steps, because it would be easiest to clean up outside, but as I got to the second flight, and no one was around, I started to think that maybe they didn't know it was my first win, since I had been riding in Kentucky up until that point. When I got to the top though, one of the jocks asked to see what brand of helmet I wear because he really liked the look of it. That's when I knew for sure it was coming. However, they still waited until I got all the way down the hallway to the door to the girl's room before they nailed me, and that just built the suspense. Carol Cedeno and Maria Remedio were waiting with buckets of ice water and a camera right inside the girls room, and three guys were hiding across the hall from the door, in the shadows with more water, shaving cream, and baby powder. I can't even tell you who the guys were because I didn't see them coming!
FOTH: So far, has being a jockey what you thought it was going to be, and what are some things that are different?
JM: In a lot of ways, yes, it's what I thought because it is incredibly fun, thrilling, and challenging. However, there is nothing anyone could have said that actually could have prepared me for just how fun, thrilling, and challenging it would be! I love a good challenge, and I'd say it was actually a pleasant surprise to find out that riding races is even better than I imagined, based on what people said. I think one of the best surprises is seeing how close-knit everyone is. Sure, during the race, we're all out there trying to beat each other, and essentially, we all run competing businesses in a very small area. But there's still a lot of camaraderie in the jock's room, and it's really nice to see how people come together when someone gets hurt, or how much people cheer others on at times.
FOTH: I know you're based on the East Coast, so tell me a little bit about Parx Racing, where you won your first race?
JM: I've only ridden a handful of races at Parx, but every trip there has been pleasant!
FOTH: Now, what are your thoughts on Monmouth Park? Do you think it will survive, as I have been hearing lots of sad things about the track?
JM: To be honest, I don't really know much about what is going on at Monmouth. I've only ridden one race there. I do think it is a beautiful track, in a great location. And New Jersey certainly seems to have a lot of dedicated racing fans. It would be really sad to see it close down.
hey seem to be doing a lot of good things down there. That is it like riding at Laurel Park, as I know you're based there?FOTH: W
JM: I really do like riding down there. They seem to be making a lot of improvements to ensure the longevity of racing in MD. There are a lot of dedicated fans who come out every weekend regardless of the weather and that certainly adds to the atmosphere.
FOTH: If you were not a jockey these days, what do you think you would be doing with yourself?
JM: If I hadn't found my way into racing, I would probably still be working with dressage horses.
FOTH: Take me through what a typical race day is like for you now?
JM: Typically, I arrive at the track between 5:00-5:30am to get on horses and talk to trainers. Generally, I'm busy with that up until the track closes. Then I head straight to the jock's room. I like to get in early, shower, grab lunch, and relax for a while before the races start. Even if I don't ride until later in the day, I like to be in the room watching the early races and keeping an eye out for any track biases that day. If I have evening mounts, at Penn for example, then as soon as I'm done with my last horse, I pack up and hit the road. If I don't have any evening mounts, then I head home, eat dinner, and look at the past performances and videos of the horses I ride the following day. After a little bit of down time reading or watching TV, I head to bed to start again the next day!
FOTH: What are some things you like to do when you're not doing things horse racing-related?
JM: I still love being outdoors and have done some hiking since spring arrived. I also love watching movies and reading.
FOTH: If some young girl came up to you and said she wanted to become a jockey, what advice would you give her?
JM: Well first, you have to be tough and willing to work hard. You're going to fall in this sport, both literally and figuratively. So you have to be willing to get up, dust yourself off, and get back to work with a smile. And second, don't lose sight of your goals, or why you set those goals. As with any sport, being a jockey is not just a job, it's a lifestyle. You need discipline to achieve your goals, but it is equally important to remember why you set those goals, because that "why" is what carries everyone through the rough patches.
FOTH: Do you have any idea how long you would like to ride, and could you see yourself being involved in horse racing in some form, even if you're not a jockey?
JM: I plan to ride for as long as I enjoy it and am physically capable. I'll cross that bridge when I get there. As for what comes next, I believe I will stay involved in horse racing, but I don't know exactly how.
FOTH: Jenn, best of luck with everything going forward and thumbs up for the interview. Any last words to say? The floor is yours.
JM: Thanks for the interview, Footboy! :-)