Judy Slane-Fischer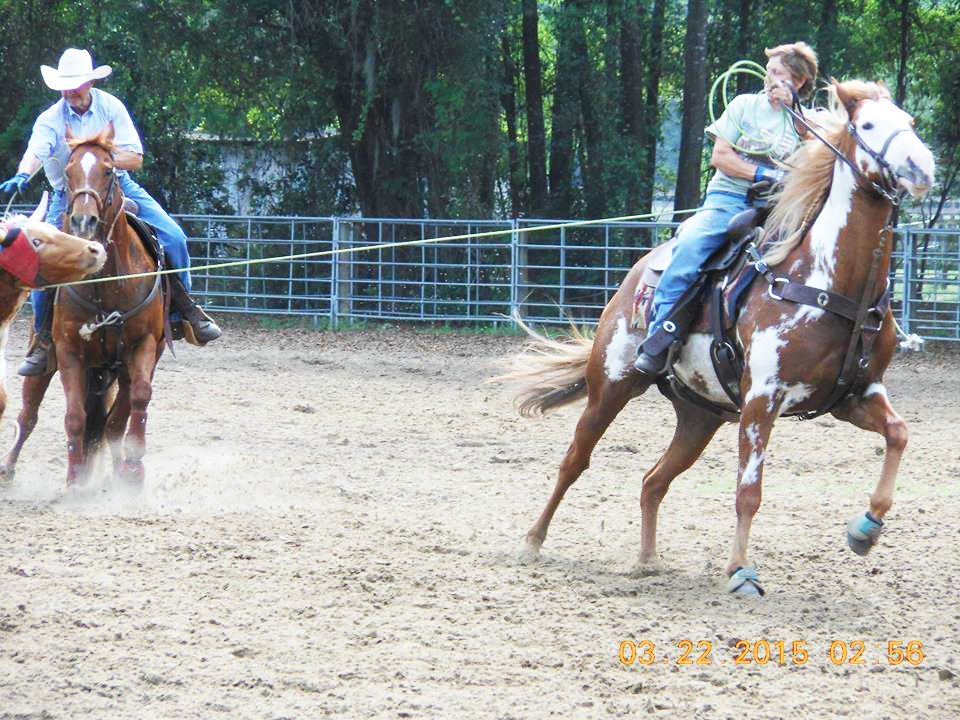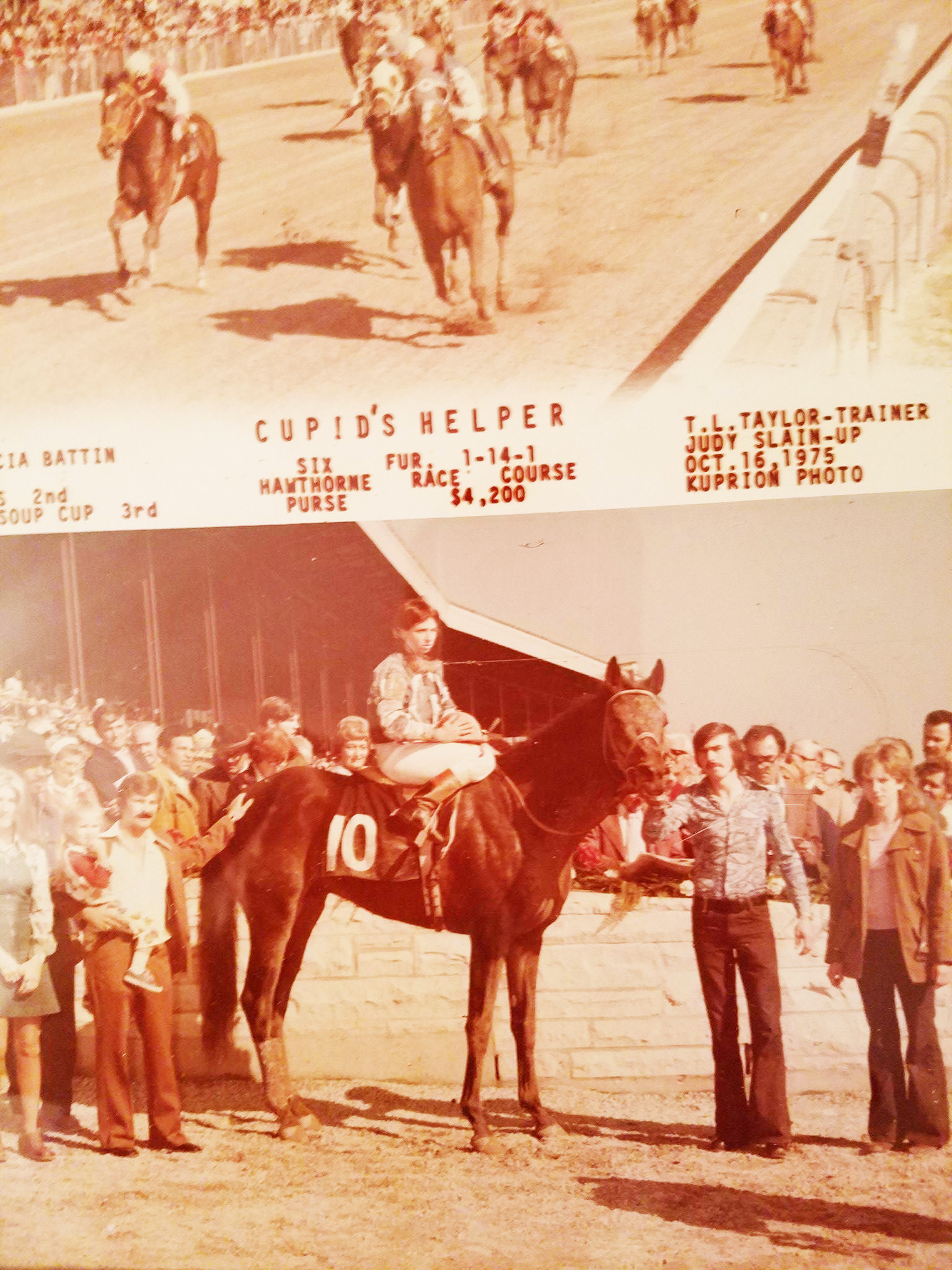 Judy Slane-Fisher was a jockey in the 70's and into the 80's and now has been a full time farrier for over 20 years now and here is her story:
FOTH: Where were you born, and where did you grow up?
JF: I was born and raised in Cedar Vale, KS, a small town SE of Wichita.
FOTH: What sort of girl were you growing up?
JF: I was a tomboy and a loner.
FOTH: Did you have a love for horses early on in your life, or did that come later on?
JF: From the time I was eight years old, horses were all I thought of. I started breaking and training horses when I was 14 years old. I played hooky from school so I could ride horses all day. I graduated from high school with D's and F's, because I galloped the principal's horse.
FOTH: So what did you think of horse racing when you saw a live horse race?
JF: I knew nothing about racehorses. I had never seen a race.
FOTH: So you rode in the 70's into the early 80's. What made you decide to become a jockey?
JF: After I graduated high school, I went to Pawhuska, Okla. and waited tables in a small café. I had seen a little training track outside of town and asked the boss to let me know when anyone from that track came in. One morning he told me that the little man sitting at one of the tables, puffing on a pipe, was from the track. I asked the man, James McCumber, if he had any work for me at the track, and he told me to come out the next morning. He put me right to work; cleaning stalls and breaking yearlings. He would put me on the yearlings in a 12 x 12 stall. He would tell me to take my whip and hit them where the colt sucks air and turn them both directions. Then he would open the door and tell me to go to the track and start galloping. I did exactly what he told me and within two months we were headed to Nebraska for the Nebraska circuit. Grand Island was the first meet. Back in those days (1975-1982), it did not matter what the weather was doing, the races were run: blinding snow storms, tornadoes, massive down-pours, etc.
FOTH: For how long did you gallop/ride before you got your jockey's license?
JF: I galloped for about six months before I got my jockey license. I would feed 10 horses, clean their stalls, and gallop 10 horses a morning. I do know what it feels like to be fit (best feeling in the world).
FOTH: Looking back, was becoming a jockey harder than you thought it was going to be?
JF: No, it all progressed naturally, like it was meant to be.
FOTH: Was being a jockey what you thought it was going to be?
JF: Yes. It was a great time in my life. I was doing something I loved to do, and it was something I was very good at.
FOTH: So tell me what you remember about your 1st race. What track was it at, and is the track still open?
JF: I ran a second in my first race. It was at the Fairgrounds in Lincoln, NE. It is still open.
FOTH: Tell me about your 1st win. What track was that at, and how exciting was it for you at the time?
JF: A few weeks after my first race, I won on a three-year-old maiden. This was in Columbus, NE. It was a great feeling.
FOTH: Do you remember if the jockeys got you good after the race, and did you ever have a chance to return the favor?
JF: Back in those days, they did more than throw water and ice on you. They grabbed my arms and legs and pulled my jock pants down past my knees, then poured black dye on my private area (I have the picture). I knew they were all my friends, like brothers, and meant me no harm. No, I have never helped initiate another 1st time winner.
FOTH: Now I am going to name some places, and you tell me your memories/thoughts of them, ok?:
JF: Here are some of my memories from a few different thoroughbred tracks----
Nebraska:
Grand Island, Nebraska-----
So cold during the winter meets, I saw men jockeys crying from their fingers being frozen, and we would still have to ride, even though you could not see your hand two inches from your face, because it was snowing so hard.
Columbus, Nebraska-----
A great little meet. The young horses were just starting to come around and realize what they were supposed to do. A lot of them breaking their maidens.
This is where my husband (of 38 years) and I got married in 1979. It was here that I won my first race on a three year old maiden on Sept. 2nd, 1974.
Omaha, Nebraska-----
Ak-Sar-Ben
I will never forget the first time I pulled up to this beautiful track. I swear my heart stopped as I looked out across the huge, manicured track.
Summer months would be so hot, we would go to a bowling alley after morning work until race time just so we could sit in the air conditioning. It did not even cool down at night. Tornadoes were the norm. They would lock the racetrack gates and not let anyone leave. They would continue the races in the blinding rain. Once, I was on a two year old, first time starter. My knees would not stop shaking from the cold, hard rain as I sat in the starting gate. I had to take my hands and hold my knees tight. We ran 2nd by a nose.
I rode a horse for a couple, and in the paddock, they told me to hold the horse back and come from behind at the very end. I had learned if you did not ride like the trainer told you, they would find a jockey that would follow their orders. This horse ran 5th, and they were so disappointed. As soon as the races were over that day, I ran to their barn and begged them to let me ride the horse back. I told them I wanted to let the horse go to the front like she had wanted to do. I told them they did not have to pay me, if she did not win. She won. I believe some horses lose their spirit if they are held back when they really want to go to the front. I rode many that would come from way back and just get in front by a nose at the wire.
Lincoln, Nebraska----
I remember taking the water hose and holding it above my head in between every race, because of the thick, heavy mud that I would be covered with. Lincoln is where I rode my first race and ran 2nd by a nose. I rode one race at this track that I won by over a length; however, before I even got off the horse they had put the 2nd place finisher up as the winner. I was so confused. I knew I had caused no interference. I waited to take my win picture, while my valet was telling me to get off. As I protested, the trainer told me to hush, telling me, "You can't fight city hall." Even the horse they put up as the winner, did not take a win picture.
Atokad in S. Sioux City, Nebraska----
I was 2nd leading rider at Atokad. Many days I rode the card. Trainer Jim McCumber taught me to sit and wait on the rail. He told me, "A hole will always open up." Jim had a black stud horse named Oklahoma Door. He had not won a race in years. This race day, Jim rode the stud bareback, from the barn to the paddock. He got a good talking to from the stewards for that. In the paddock, Jim looks at me, winks and says, "He will run today." Well, he did run. Oklahoma Door won by 10 lengths. I was shook down at the starting gate for a month after that win. The stewards were sure that I had used a machine for him to run like that.
Hawthorne:
Hawthorne, Chicago, Illinois----
I won the first race three days in a row. The betting fans thought I was The Bomb. I could not come into the paddock without a mob of racing fans all around. You have to remember I was a shy, little girl. I never would have made it to my mount had it not been for the wonderful valets. The Chinese people had large banners made that said "Judy Slane is the best jockey." It was a time when people still had dreams. They wanted to be a part of your life.
During a morning work at Hawthorne Racetrack, I had a horse collapse, and I fractured three vertebrae. I was in a coma for 8 days.
Denver:
(Centennial) Denver, Colo.-----
I rode a few horses at one meet here, and won one race. I went to the stewards complaining about one of the gate crew that would hold my horses in the gate and not release them when the gate opened. We finally came to an agreement; once in the gate I wanted no one to hold the horse.
Sunland Park:
Sunland Park, Texas----
I was there for one meet and a second was the best I got out of less than 10 head.
Keeneland, Kentucky-----
I rode a small handful at this track. The stewards chewed me out for turning in my jockey application and the form was a mess from being in my back pocket all the time I galloped horses that morning.
Penn National:
Grantville, PA----
The best I ran was a 2nd. I remember the shadows from the light poles during morning workouts and how some horses would spook, or try to stop at the shadows. This is where I received the most head concussions. Beautiful track and wonderful people.
Hialeah:
Hialeah, Florida----
I was told that Hialeah once had a big banner out front that said, "No women allowed in the barn area."
I rode a few races, with a 2nd place being the best I could get. I broke colts, galloped, breezed them. I would then be promised mounts, and the trainer would put a boy on for the race.
I loved the fact that you could go to your apartment after the races and watch yourself riding on TV. I galloped horses for Hialeah sales and was truly in love with this beautiful track.
FOTH: Did you suffer or get any injuries while you were riding?
JF: Here are a few bad memories --- One morning I was working a horse beside another gal. Her horse blew the turn and the 5 inch x 16 foot board rail went through the horse's chest and came out his rear end. The young lady broke her wrist.
As for injuries, I had a horse jump the inside rail during a race, coming down the stretch. The horse flipped completely over, landing in the infield. I received a broken collarbone and a few broken ribs and head concussion.
During a morning work, I had a horse run into the finish line mirror (This crazy horse never set foot on another racetrack.), breaking my femur. The doctors drilled into my lower leg to attach a bolt to pull the leg bone back in line (pulled it for over a week). While they were drilling, I kept screaming that I could feel everything. I guess they just figured they would get it done.
During a race, the horse I was on fell against the fence on the back side and caught my foot on the upright post. Another jockey in the race saw what had happened and pulled my horse up while riding his own racing mount. The stewards called him in. However, once he explained and they watched the video, he did not get in trouble. I had broken all my toes on my left foot. I wore a size 3 boot, the next day I wore a size 9 boot on that foot and rode several races.
I have had at least 9 head concussions from other falls.
I have screws and pins in both my legs.
FOTH: Now what led to you retiring? Did you know your last race was indeed going to be your last race?
JF: My last race was in 1980 on a quarter horse, (of all things) at a bush track in Colorado. I broke and conditioned this three year old for Wes Brown. Within 30 days from the first day I jumped on the colt, we won with him going 440 yards against four other colts. In the win picture, I have my three month old daughter, Helen Rae, on the colt with me. I retired to settle down and raise a family. I began training race horses and team roping. I knew it was going to be my last race.
FOTH: Now do you think during your time being a jockey, you were treated fairly?
JF: Everyone treated me great. The public and racing fans wanted my autograph just as soon as I would step outside the jock's room. My hospital room would be filled with cards and gifts from strangers, when I would end up there from a racing accident. The newspapers were always writing stories about the small town, little girl making it big. I met a lot of great horseman and great riders. I was always treated fairly, by both riders and trainers. I am sure there were some trainers that did not ride females; however, I always figured if you worked hard enough at something it would pay off. After I retired from racing, I wrote a poem that was published in The Racetrack News in Denver, Colo. I do not believe it pertains to this day and age; however, it did back when women were first trying to get started.
FOTH: Now when you rode did you manage to ride with many other female riders?
JF: Yes. In Chicago, I rode with Donna Nappi, Martha Mauger, and Brenda Cole. In Nebraska, I rode with Mary Bacon. I also rode with female riders in Pennsylvania.
FOTH: You rode when it was a lot harder for females back then. Did you have to deal with the crap like: a woman is not as a strong as a man and that some or many male trainers would not ride you because you were a female?
JF: Yes, oftentimes you would pick up the mounts that no one else wanted. Also, even when you did win, the trainer would not often put you on any of their mounts again. There was only one overt incident, while in Arkansas, I was walking down the shed row and a man told me, "Get out of my shed row, I don't believe in women being on the track."
FOTH: How about the betting public, did they give you any crap at times?
JF: The betting public loved me. I would win on longshots. I never had any trouble or negativity from the public.
FOTH: Give me a couple good funny jockey stories, if you can remember any.
JF: One morning, I was at the barn ready to head to the track to gallop when a kid came by and said the track was closed because someone got hurt, and they were waiting on the ambulance. The man I was riding for yelled, "Hell, dig a hole and bury him, we have horses to gallop."
One race that I did not have a mount in, my valet came over to me as I sat in the jock's room, and asked me if I wanted to ride this horse. The horse belonged to a leading trainer, who had a regular rider. I was suspicious. I questioned the valet, and he said he had asked all the other riders in the room that were without a mount if they would ride the horse, and no one would ride the horse. He assured me the horse was okay. Finally, I agreed to ride the horse. In the paddock, I asked the trainer what was wrong with the horse, and he told me the horse was fine. When I was legged up, the horse would not move. When I would get off the horse, he would walk, put me on and there was nothing you could do to make her move. The racing fans circling the paddock were laughing as all the other horses went to the post parade, and here I was with a horse that would not move. I was young and naïve and I thought the crowd was laughing at me. I told my valet I did not want to ride this horse. My valet (I know he was thinking this was a great chance for me to get my foot in the door, riding for a leading trainer) told me I had to ride this horse. The other horses were already at the starting gate. They gave the horse to the pony boy on the track. Without the rider the horse would move, so the pony boy got him in a trot and as they came by the paddock gate someone threw me up on the horse and without losing momentum, we got into a lope and went straight to the gate. The other horses were already in. As soon as we stopped behind the gate, the horse froze again. I got off so they could load the horse. Sitting in the gate, the other riders looked over at me and told me I was crazy. I laughed and said, "I'm not worried, he won't even come out of the gate." Boy, was I wrong! This horse broke good and won the race. The horse went off 70-1. When I came back to the winner circle, the crowd went wild, and I was the hero. The horse froze again, and I had to get off so they could position him for the photo. That leading trainer never rode me on another horse.
FOTH: Now how did you end up becoming a farrier, and please explain to everyone what the job is of a farrier?
JF: I was always interested in the horses' feet. I began doing my rodeo horses' feet when the farrier I was using was retiring and began teaching me. He sold me all of his tools and gave me the information for his father-in-law's farrier school in Texas. The job of farrier involves trimming and shoeing horses' hooves.
FOTH: What are some of your favorite moments as a jockey and least favorite moments?
JF: My favorite moments are the fame and positive energy you gain when you are winning. My least favorite moments are when you do all the work and get a young horse ready to race and the trainer puts a male jockey on the horse when it comes race time.
FOTH: Now you have been involved in the sport for a long time, do you feel that tracks now have to have casinos to survive?
JF: I hate casinos and wish the tracks would try another way to bring back the love of horseracing. The tracks need to get the food and drink prices down to where an average family can buy it.
The tracks need to offer good, safe child care, either free, or reasonable. The tracks need to get the love and desire back. Things need to go back to being simple, like the days of Seabiscuit. I cannot watch that movie without crying, when the fans run from one side of the infield to the other. People were so in love with the racing scene in those days.
FOTH: If a young girl came up to you and said she wanted to become a jockey, what advice would you give her?
JF: Find a reputable jockey school and go into the business just like you would any other type of career. Find one that promises to help hook you up with some trainers. Nowadays, I do not believe you are going to find the "good ole boy" who is going to be true to you and hang with you through all the ups and downs. I would also advise that once you find a track you are doing good at, then stay there as long as possible. I was always looking for something bigger and better, and I should not have been moving from one place to another.
FOTH: How much longer do you think you will continue to be a farrier?
JF: I don't plan on retiring any time soon. I get the best feeling when I trim a horse and then turn it out into the field, and it runs and plays.
FOTH: Judy thumbs up for doing this interview, and I hope you enjoyed your time back in time so to speak. Any last words to wrap this up?
JF: I have been married to the same man for 38 years. He was training thoroughbreds in Nebraska. We have two beautiful daughters. I had a wonderful career as a jockey. I am now going on my 21st year as a full-time farrier. I appreciate what you are doing for horseracing. All the stories the female jockeys share are so good. You are doing your part of keeping that racing spirit alive. I give all the glory to my Lord, Jesus Christ.