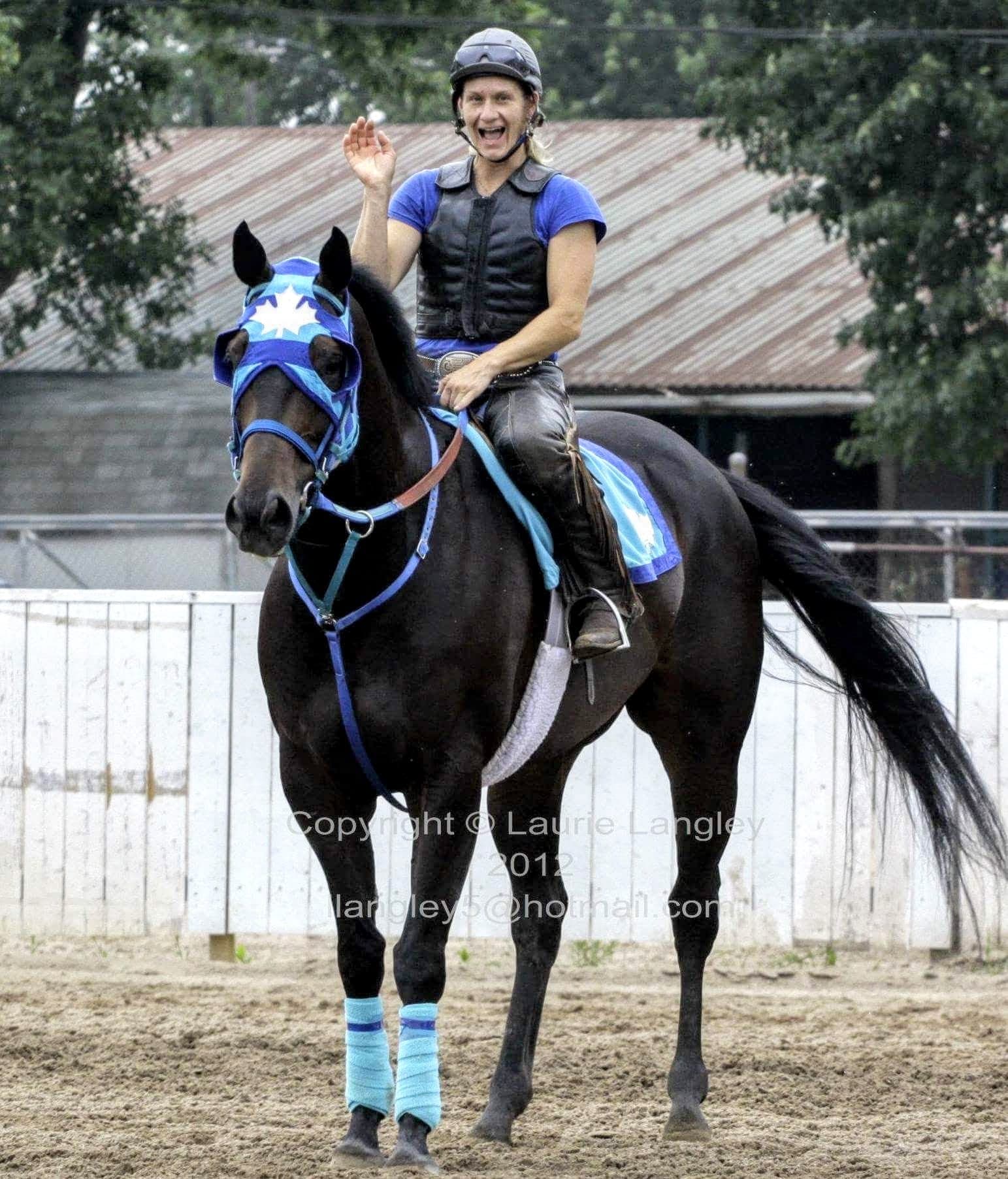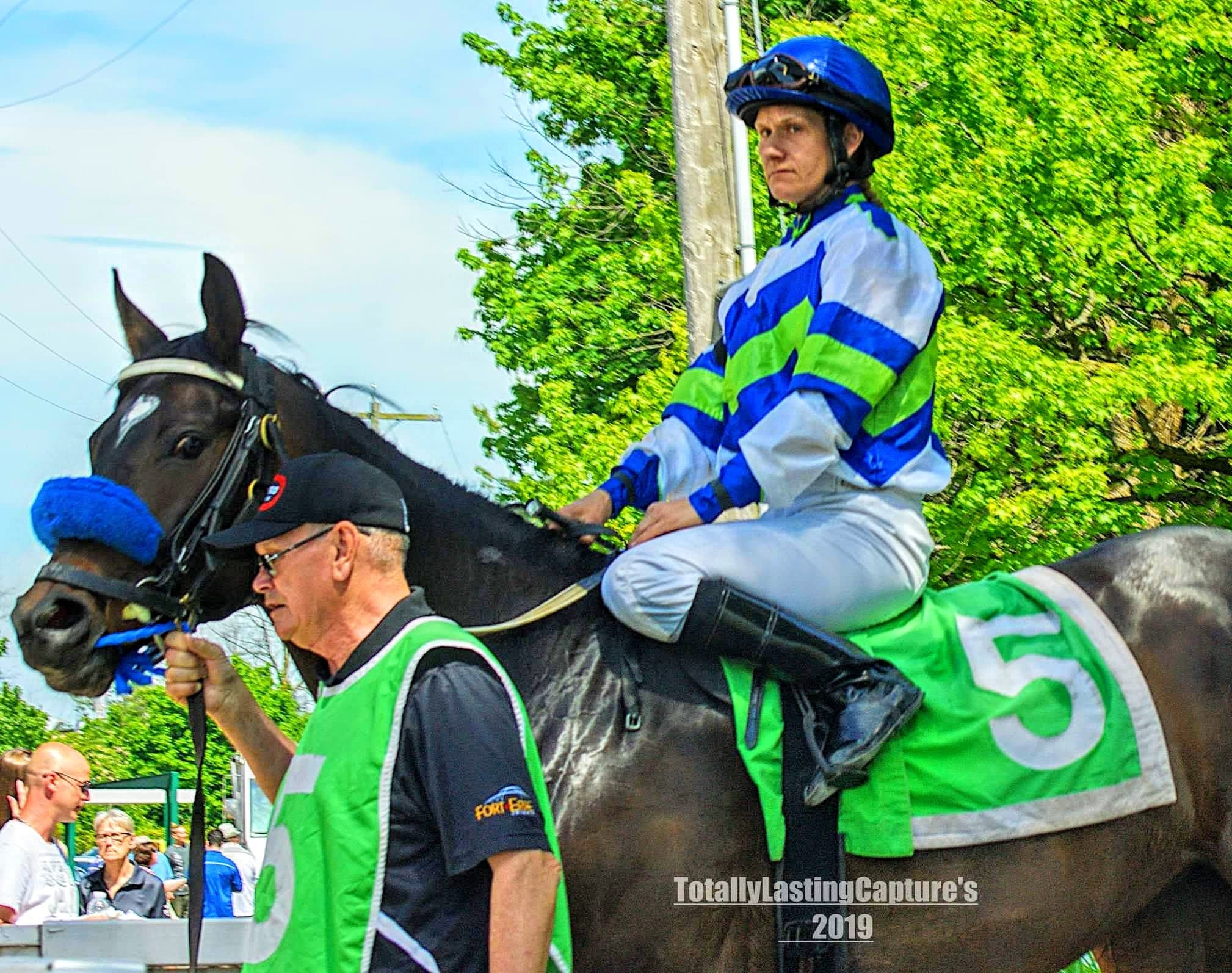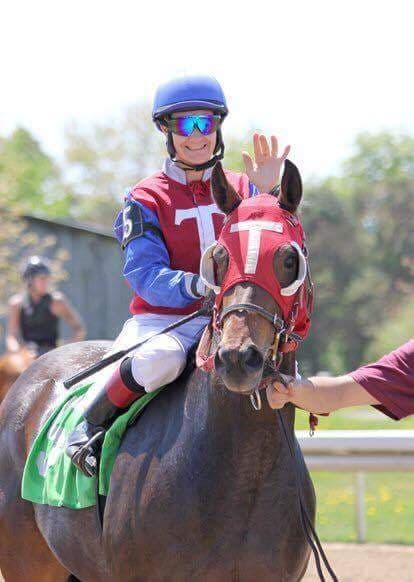 Helen Vanek
Helen Vanek was a jockey I knew briefly when she rode at Delaware Park while I was working at Garden State Park and recently I managed to hook back up with her and asked her if she would like to do an interview, she said yes and here we go:
FOTH: Where were you born and where did you grow up?
HV: Born in Toronto, grew up on a farm, north of Toronto.
FOTH: What sort of girl were you growing up?
HV: Athlete. Played every sport possible, but was always on the back of a horse.
FOTH: Thoughts on horse racing the first time you saw a horse race.
HV: Not sure, grew up with racing. Quarter horse racing when I was a kid.
FOTH: So what sort of girl were you like as a teenager?
HV: I was riding quarter horse races at 18. Galloped horses, broke horse's. Started breaking race horses and galloping at 13. Maybe even 12, not sure.
FOTH: For those who don't know explain the difference between a quarter horse race and regular horse race.
HV: Quarter horses to thoroughbreds are like drag cars are to stock cars. Quarter horses go faster for a shorter distance. Anywhere from 100 yards to 440 yards, which is a quarter of a mile.
FOTH: So tell me who taught you how to ride and looking back how easy or hard was it?
No one in particular taught me when it came to racing as a bug rider. Basically, I just had to figure it out for myself. Luckily it came easily to me.
FOTH: Tell me about your first race. What track was it at and where did you finish? Were you nervous at all?
HV: I don't remember my first TB race. Almost got killed in my first qh race tho! My first TB race was at Woodbine.
FOTH: What exactly happened that you almost got killed in that 1st race you mentioned?
HV: The horse ducked and dropped me, then I got run over by a horse behind me. TKO,'d.
FOTH: Scary no doubt. How about.1st win?
HV: Don't remember either...lol! My first qh win was a dead heat! TB racing was boring compared to wild qh racing😜.
FOTH: Did the jockeys get you good after the race?
HV: At Woodbine they wheeled me around in the laundry cart n threw ice on me.
FOTH: That's different. So what tracks do you remember that you ride at?
HV: My quarter horse racing career is much more memorable. Won a ton of Stake races, rode great horses n travelled all over U.S. to ride the good ones. Some of the best in North America at that time. I've ridden at over 30 tracks, and in Singapore.
FOTH: Tell me about Singapore. What was the biggest difference in racing between there and here? How were the crowds?
HV: Crowd were enormous! No outriders or ponies. It was cool.....with horribly hit n humid weather. It is right on the equator though! Beautiful country!!!!
FOTH: So where are you riding at these days?
HV: I ride at Penn National and won one for my other half at there last week. My husband n I have a small string that we bring from Canada to Penn just for the winter.
FOTH: What is a typical race day like for you these days?
HV: Well, in the winter I only ride our horses. In the summer I ride for other trainers as well. I only ride one a week or so right now.
FOTH: Obviously racing at least in the US has declined in popularity with most tracks needing casino money to survive. Can anything be done to change that or no?
HV: I doubt it. It's a different world in general now. Tracks are owned by greedy corporations whom only care about casino operations, not racing. And the general public, the younger generations, are too busy playing video games and such. They care little for things like horse racing. It worries and saddens me.
FOTH: I agree with you. How much longer do you see yourself riding for?
HV: Not really sure🤔
FOTH: Overall do you feel you have been treated fairly over your career?
HV: Yes. Very. I have been extremely fortunate to deal with so many great people throughout my career.
FOTH: When I tell you, you have rIdden in over 3600 races what goes through your mind?
HV: Wow. I never counted...lol! Is that including quarter horses, and Arabians too?
FOTH: Probably not. Tell me about the artwork you do?
HV: I've only done a few, too distracted with racing. It takes a lot of time and focus
FOTH: Now if a young girl cane up to you and said she wanted to be a jockey, what advice would you give her?
HV: Enjoy it while you can but have a back-up career...lol!
FOTH: Tell me about any quarter horse racing stats you remember?
HV: I have 2 leading rider titles..one at Canterbury and one at Ajax Downs. Only one leading TB rider title, at Fort Erie.
FOTH: Helen thumbs up for the interview and parting words for everyone?
HV: Thanks for the interview footboy, I will send you some nice wool socks from Canada!