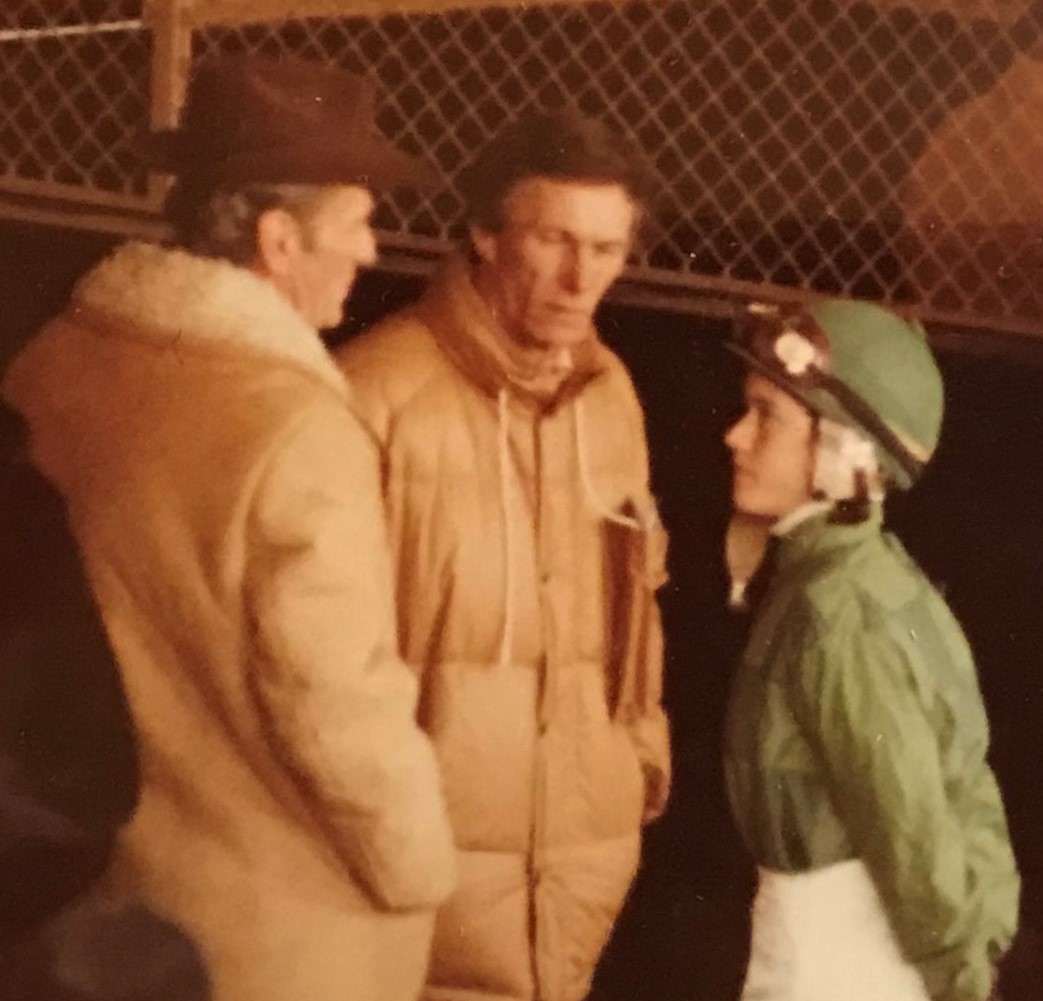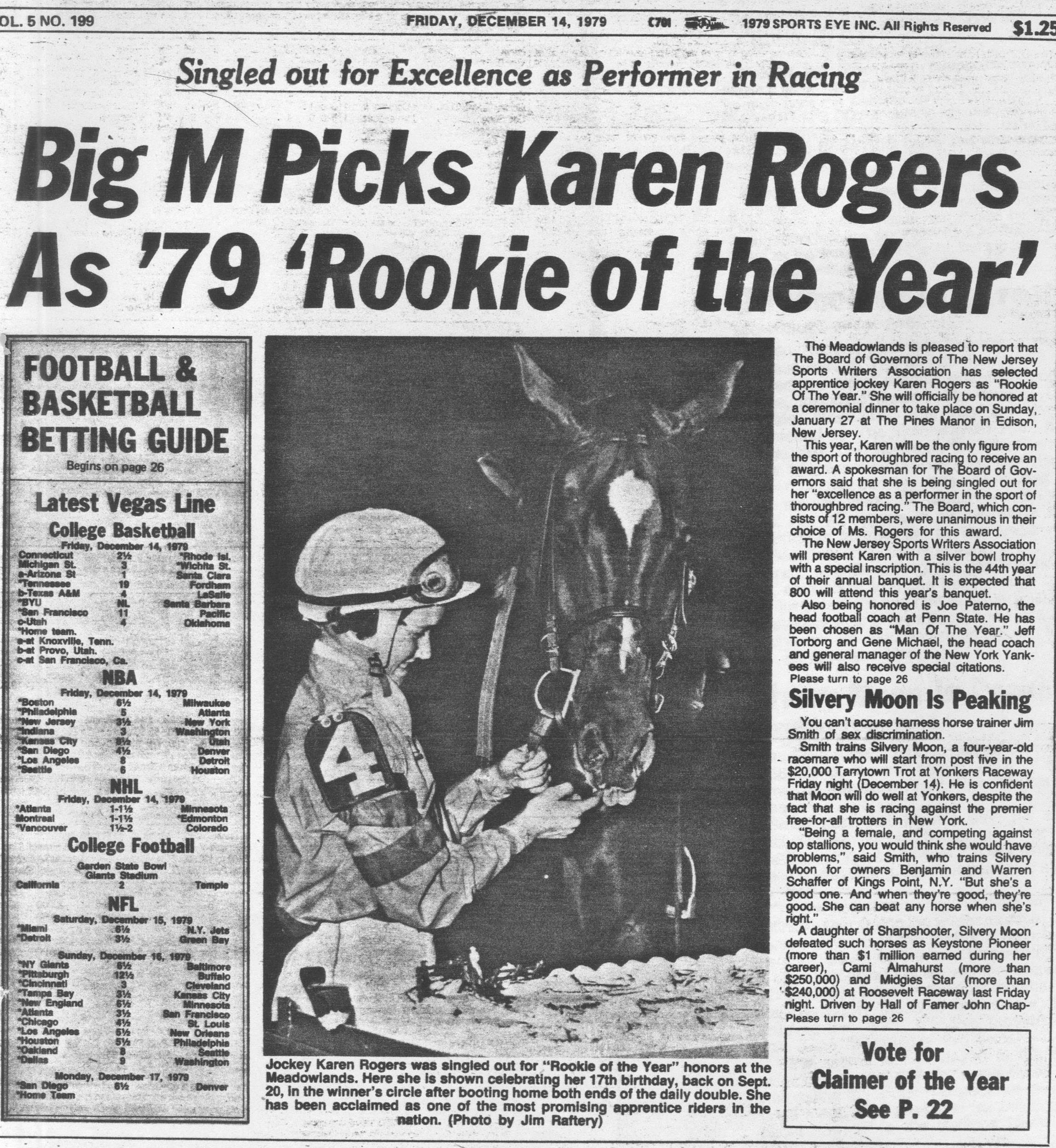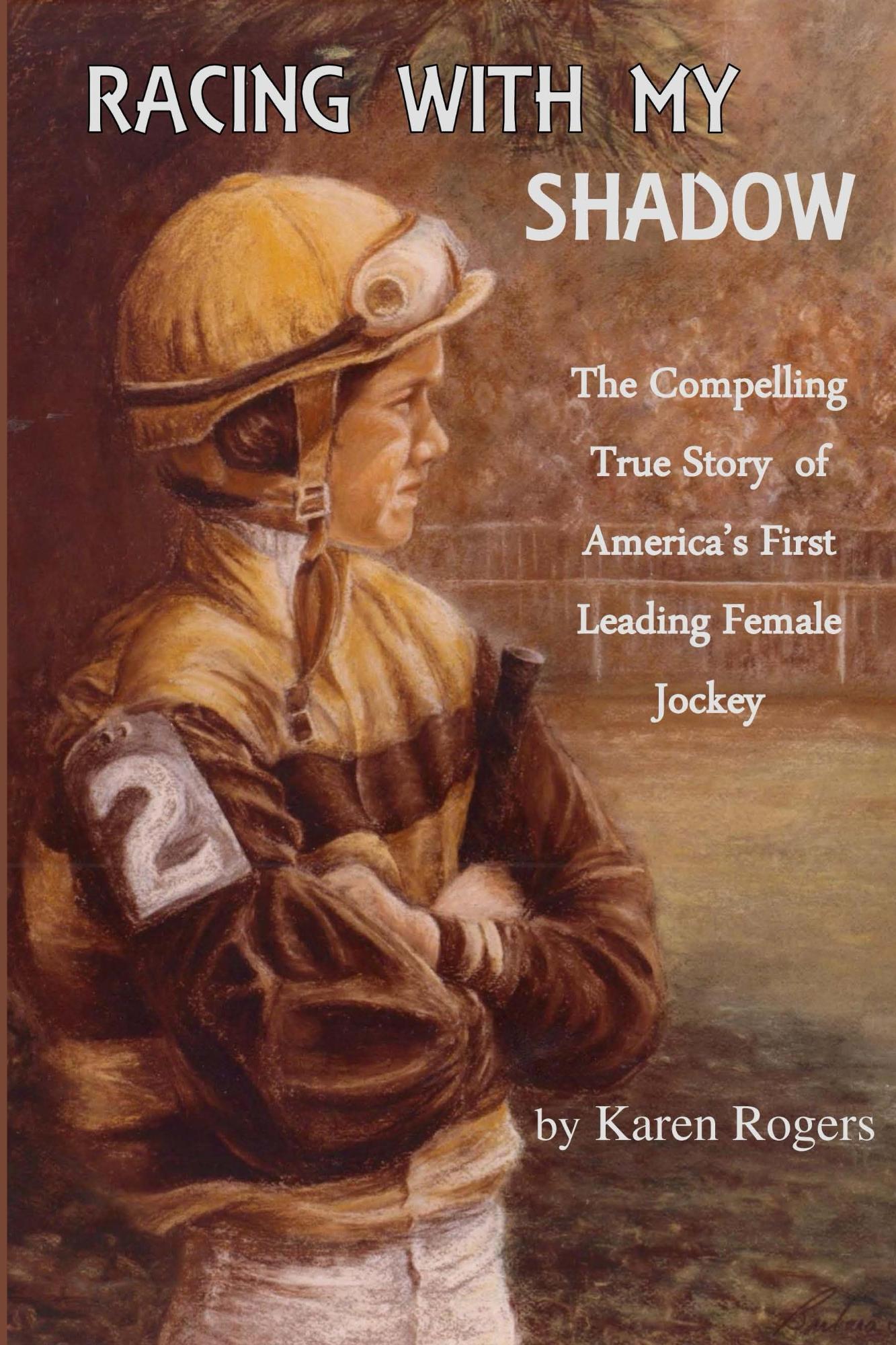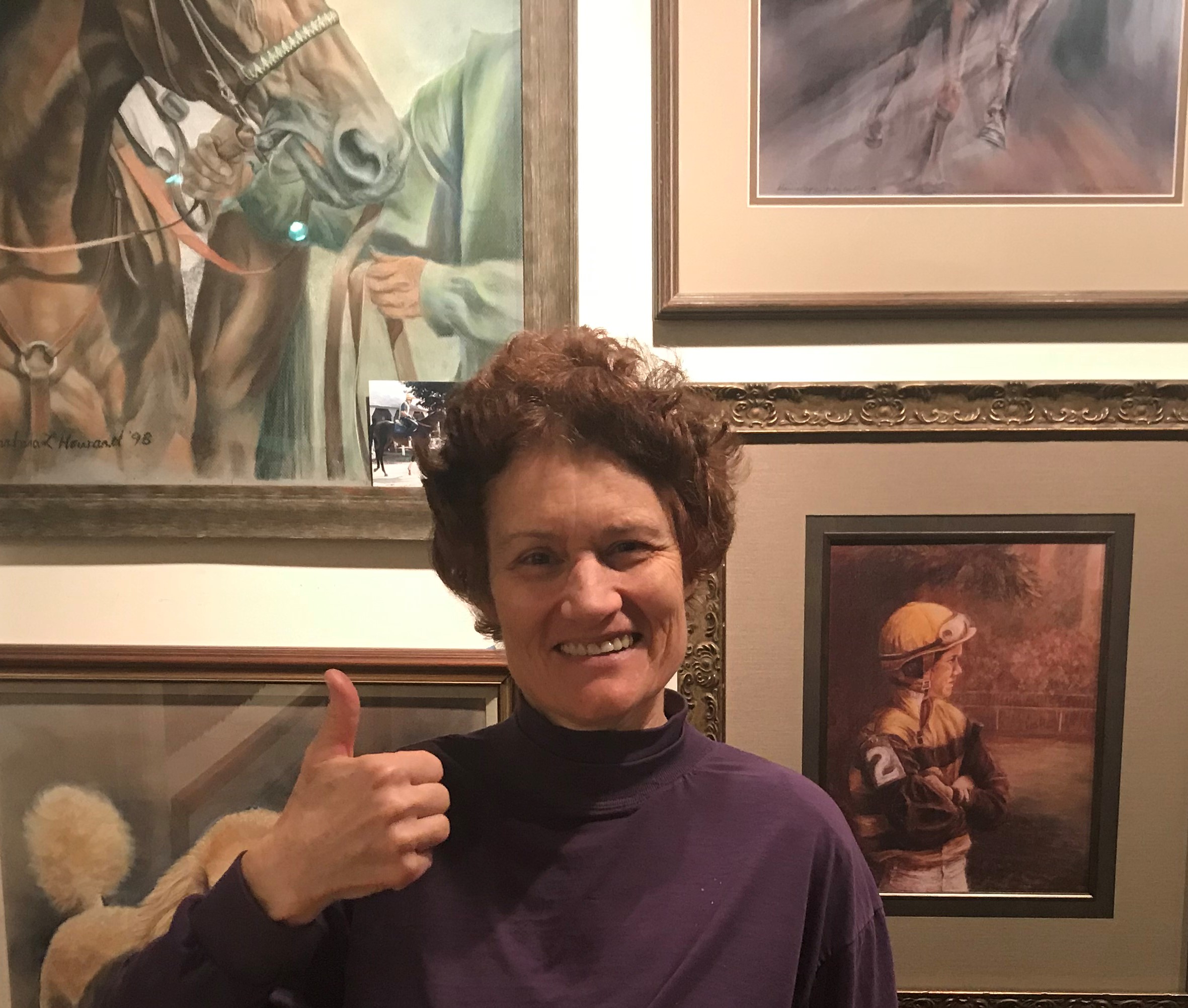 Karen Rogers
Karen Rogers was a leading female jockey in New York in the 1980s. She is the author of Racing With My Shadow, available on Amazon. She had many demons going on in her pre-racing and racing days and they are revealed in the book. Here is an extra long interview I did with her, so enjoy:
FOTH: You wrote an amazing book, Racing With My Shadow. We will go into it more later, but what gave you the idea to write the book, and did you have to contact many publishers before you found one?
KR: The original book was written in 1989 and was what I wrote to figure out my past. At that time, I was at my wit's end and wanted to find out what was "wrong with me" or end my life. With the help of my mother, I painfully untangled the lies buried in memories of my childhood. I had been sexually and emotionally abused from a young age. I was brainwashed and manipulated at a young age, and this caused me to have low self-esteem. I believed lies about my mother, that she hated me and that I was bad. I had no idea that my feelings and repercussions from these lies had followed me my whole life--starting with escaping the abuse by becoming a successful jockey, but eventually leading to addiction, suicide attempts, and a toxic marriage. The book was polished and edited by me many times since 1989, and it wasn't until 2017—twenty-seven years after the original manuscript was written, that I gave it the final edit and published it. During those 27 years (in which I was totally healed from my past), I had a son and homeschooled him. I also taught writing at our homeschool co-op. Little did I know, God orchestrated all this in order to prepare me to polish and edit my manuscript from 1400 pages down to 430 pages! Over those years, I had offers from many publishers, but I knew it wasn't God's timing. In the end, my mother and I did the final edit, added pictures, and published it ourselves. This was in order to keep control over the content and tell the story as it happened. For the cover of the book, we used a pastel that my mother did of me in 1981 when I won my first stakes race at Belmont Park. My mom was very instrumental in not only unraveling the lies of my past, but also in the final edit and publishing process. She is an amazing person--my angel.
FOTH: I read you had a big interest in horses even as a very young girl. Did you know at that time you were going to ride races one day, and were you willing to do anything to make that dream come true?
KR: My mother always had horses. She was the one who was very involved with them. I was riding since the age of three. At age 11, I started riding in pony races. Because of the abuse I believed I was bad, and my dream was to escape who I was by becoming a great jockey.
FOTH: What was it like getting up on ponies at such a young age? Was it an amazing rush and thrill? From reading your book, it seems you wanted to be around horses 24/7.
KR: It was not a rush or a thrill; riding was part of life. My mom was involved with horses, so my sister and I were riding them from a young age. We did pony club and foxhunting, and eventually I started riding pony races. I was not obsessed with horses—it was the speed and racing that I loved. My goal was to become a great jockey—and this was in order to be "good"—to escape who I believed I was. Becoming a jockey wasn't so much about the horses as it was to build a new, successful identity.
FOTH: After competing in just few pony races, you won early on! What was the feeling like for you and is that when you knew you were on your way to becoming a jockey?
KR: Winning was so incredible; however, I did not win early on with ponies. I had ridden my pony, Jack, in races for five long years and never won with him. A miniature thoroughbred called Twin Nora won all the pony races; she was undefeated in over 25 starts. (Twin Nora was ridden by Ricky Hendriks, who went on to become a steeplechase jockey and is now a trainer.) My best race on Jack was a second-place finish to Twin Nora. It wasn't until I was given the chance to ride another thoroughbred pony, Royal Star, that I was able to finally defeat Twin Nora. That chance was given to me by a fellow pony race competitor, Alan McChesney (who also went on to become a professional jockey) when he got too old to ride Star in the pony races. It was amazing to finally win a race with Royal Star—and then to win three more races with him after that!
FOTH: Before you galloped horses at Monmouth Park and Garden State Park Racetrack, you rode on a horse farm. What were some of the big differences between riding at the racetrack and riding on a farm? What was the feeling like riding and galloping racehorses?
KR: We had racehorses on our farm, but you really couldn't gallop them there. The racetrack is where you could get on and go! It was a great feeling to ride real racehorses—and not just race ponies. Thoroughbred racehorses took a hold of the bit, which made it much easier to ride going fast. With ponies, you really had to push on their neck, and it was exhausting! I found that most racehorses were actually easier to ride than racing rogue ponies over courses that were over hills and around tight bends. The racehorses I started galloping for my stepfather when I was fifteen were also very difficult to handle. However, that didn't matter to me; I felt free on the racetrack. Actually, as my riding career progressed, I got better horses to ride—and they were much easier to handle and better behaved than the ones I rode at fifteen. (I was lucky to get on the track at age fifteen. You actually had to be sixteen to get a license!)
FOTH: Before I go any further, I want to touch on something bad that was happening to you at this time. You were being raped—and you were underage. Did you block this out and just concentrate on being a jockey? How hard was this to write about?
KR: At the time, I pretended it wasn't happening. I was good at blocking things out to survive. This is not unusual for kids who are raped. Becoming a great jockey was an obsession, a way to become something—not the "bad" person I believed that I was. I think most people who are driven to succeed at any cost are overcoming low self-esteem. This is what drove me beyond what is normal—and the reason for my extreme focus, extreme drive, lack of fear, and ultimate success as a jockey. Years later, when I was so far down—depressed, suicidal, and drinking—facing and writing about what happened when I was young is what led to my healing. I also realized that writing how I felt about the abuse, the dark path it took me down, and my eventual healing would help many others who were still suffering the emotional and lasting aftereffects of childhood abuse. Consequently, not only was writing this painful part of my story healing, but it gave writing about it a higher purpose—to help others to face their own pain, which is a necessary part of healing.
FOTH: Trainer Allen Jerkens yelled at you about the way you rode one of his horses. How tough was it for you not to yell back at him, and was he right or wrong in what he said?
KR: This was my first experience riding in New York for a New York trainer. I did not know Allen Jerkens, nor that he was known for his hot temper. I had shipped in to New York from New Jersey to ride the horse for the owner. I rode the horse the same way I always had, and we did well to finish second. I was therefore shocked when the Hall of Fame trainer yelled at me. It never occurred to me to defend myself. At that time, I imagined all New York trainers were like him, but I soon learned that they were not. When I moved my tack to New York, I found out that Allen Jerkens was moody and known for yelling at jockeys and at his help. I went on to ride and win for this top trainer, knowing that he would yell at you one second, and be nice to you the next.
FOTH: When you were racing, you did a lot of television appearances and articles were written about you in People Magazine, the New York Times, and other publications. Looking back, did it ever seem strange that as a shy teenage jockey you were getting all this attention?
KR: I really didn't care about the press coverage. In fact, I didn't believe the nice stuff they said about me as a person—only as a jockey. All that mattered to me was getting horses to ride and winning races. I actually turned down a lot of opportunities for press coverage and almost avoided it. I didn't even know who David Letterman was or any of the shows that interviewed me. I didn't watch television, and I didn't really see how publicity would help me get mounts. (It probably would have—but I was young and focused on riding and just being there for the trainers.) I only did interviews or went on shows if it was a day when there was no racing, or if they would come out to interview me on the track and work around my schedule. I didn't make it easy! I also turned down trips to ride in Japan, Europe, and Switzerland because I didn't want to lose my New York business by taking the time away to ride in other countries! I was very focused on being successful riding races in New York—and nothing else!
FOTH: As an apprentice, you were the leading rider at Monmouth Park, but had a nasty spill that kept you out of action for almost a year. Then there was another one that wasn't as bad, but kept you out of action as well. Did you ever entertain the thought of retiring and how hard was it for you getting started back up again?
KR: Looking back, what is crazy is that I would give up opportunities (mentioned above) in order to keep my regular business going in New York—yet a bad spill would keep me out of racing for months at a time! In both those spills (1980 and 1981), I broke my back and was out for six months each time. In the second bad spill (at Saratoga), I actually died and had an out of body experience. Never once did I consider retiring because of the danger or the injuries; I just thought about how soon I could return to racing!
FOTH: Below are some tracks I will name.Tell me what are your memories of them?
KR: Garden State Park: I never rode races at Garden State Park. My experience there was galloping horses at age 15, when the track was closed due to a fire in the grandstand. Other than the horses, my memories of Garden State Park were bad. There was one highlight, however. I got to be in a Trident gum commercial with Steve Cauthen; not only did I get to meet my hero, but it was my first opportunity to break horses from the starting gate—and we did it six times!
Monmouth Park: This was the first track I raced at regularly (1979), and I was only 16 years old. They didn't have a girl jocks room then, so they transformed the broom closet for me! I loved Monmouth Park. The atmosphere was relaxed and the people were wonderful as it was a summer vacation spot on the New Jersey shore. The trainers readily accepted me as well. I returned for the summer meeting the following year (1980), after riding in New York for the winter. I quickly became the leading jockey at Monmouth Park, winning three and four races a day several times. However, a bad spill there preventing me from finishing the meeting. I was in a body cast and out of racing for six months. I was always successful at Monmouth Park, so it has a special place in my heart.
The Meadowlands: I also did very well at this track, but only rode regularly at the Meadowlands for one season when I was an apprentice (1979). The Meadowlands racetrack favored speed and I was known as a good gate rider and good on speed horses. I was the fourth leading rider and won three races in a night on several occasions—including my seventeenth birthday! After that meeting, I moved to New York to ride regularly—and there I stayed.
Aqueduct: This became my home track, where I rode the most races. New York raced at Aqueduct for seven months out of the year (the remaining months they raced at Belmont Park or Saratoga). I loved the New York jockeys and horses. The quality of riders and horses were so much better than anywhere else, plus New York raced year-round and you didn't have to pack up and move each time a meeting ended (as you did in New Jersey). I didn't ride as many races in New York, averaging four to five races a day as opposed to riding seven or eight races a day in New Jersey. However, in New York the horses were better quality and you could make as much or more money winning less races as the purses were higher. My favorite race to ride at Aqueduct was one mile out of the chute. It was fun and a real challenge.
Belmont Park: A great track. In the spring, Belmont would open and the good horses and best jockeys would return to New York after wintering in Florida. There was nothing like racing and winning at Belmont Park. Winning at Saratoga was the only thing that could surpass winning at Belmont Park. Still, winning anywhere was the best part of racing!
FOTH: It is every rider's dream to ride at Saratoga Racetrack. As a journeyman, you rode several meetings there and won several races. What are some of your memories of riding there and what was it like the first time you won a race at this awesome racetrack?
KR: Saratoga is the premier race meeting in the country. All the top horses, owners, trainers, and jockeys are there—and they want to win at this prestigious track. Riding races at Saratoga is very special; winning at Saratoga is extraordinary. As much as the winners were very special to me, my most memorable moment was not from a winner—but from a spill there. I actually died and had an out-of-body experience from a 1981 spill, and it changed my life. I tell the story in my book, Racing With My Shadow. Not only do I now know that life here is the real prison and that you are set free when your body dies—but I also know that what matters in life is not the races you win, but the people you love. My death was confirmed nine years after that spill (1990) when I had another spill at Saratoga, and the track doctor—the same one who had attended to me in 1981—confirmed my death. I was then able to finish my book and piece together what I had seen when I left my body.
FOTH: You were the first female jockey to win a Grade 1 Stakes Race. Not many jockeys get to accomplish this, especially at such a young age. Did you know at the time what a great achievement this was, and did you get more opportunities to ride in other stakes races?
KR: Let me correct you. I was the first female jockey to win a Grade 1 Stakes Race in New York. Mary Russ had already won a Grade I Stakes Race in Florida. New York was a different ballgame at that time—not only for female jockeys (there were none when I came to New York)—but for all jockeys. I won the Grade I Top Flight Handicap at Aqueduct in 1983 riding Adept for trainer Frank Wright. I knew it was a first, but more importantly, it raised the value of Adept as a broodmare. I also won the Affectionately Handicap with her. Winning or even placing in stakes races makes a horse worth a lot more money in the breeding shed—and I was all about helping the owners and trainers make money. I won other stakes races in New York and also at other tracks; sometimes New York trainers would ship their horses "out of town" to win or place in stake races to increase breeding value. I rode a lot of these shippers, traveling to Boston, Maryland, and even to Canada!
FOTH: You rode in over 3,500 races from 1979 till 1990. When you see that many races that you rode, what goes through your mind?
KR: I am not really a numbers person—I am better with words!
FOTH: Do you still remember your first race like it was yesterday?
KR: What I do remember well is the timing; my goal was to ride professionally by age 16—and that happened when I finished second at Hialeah Race Track in April of 1979. That first professional race, however, was not as memorable as all the races I had ridden before that. As a kid, I rode in pony races on the steeplechase circuit. These were not jumping races, but short flat races over challenging courses. There was such a buildup to these pony races as they were only held in the spring and the fall of the year. I lived for the pony races from age 11 until I went to the racetrack at age 15. We actually had a pony race at Keystone Race Track (now Parx). It was run at half a mile. They didn't use a starting gate or have wagering, but it was so incredible to ride over a real racetrack for the first time. Racing ponies was actually much more challenging than racing horses—and made me a much better rider.
FOTH: What was a typical race day for you? What time did you wake up and how many horses would you get up on in a typical day? What time did you usually go to bed?
KR: Every morning I was up at 6 am and went around the barns to see trainers. I got on (for workouts) an average of four horses each morning—sometimes more, sometimes less. This is how jockeys get mounts in races. They do not get paid to work horses in the morning. The paychecks come from riding races. The track closed for training at 10 am and at 11 am I would head over to the jocks room to get ready for the day's races. In New York, I rode on average four or five races a day. In New Jersey, it was more like six or seven races a day. I was usually in bed by 10 pm.
FOTH: When you were going out with a trainer named Pablo who said, "Karen don't you know there is more to life than just horses? The reason I never dated girls from the track is because I don't like taking the horses home with me." Did that open your eyes so to speak that there was more to life than just horse racing? Did you end up thinking less about horse racing at this time and start to focus on other things?
KR: Pablo (not his real name) did not want me around the track. He did not want me asking him questions about the horses or talking about them. He was manipulative and controlling. Of course, I was in love with him and to please him, I ended up quitting riding and not going to the track. Even though he trained one of the top stables in the country, it was off limits to me. I went with him to the races when there was a big stakes race, but was basically not supposed to talk to anyone. My world got very small.
FOTH: In your book you mentioned that you were asked to ride some races in Japan and Europe. However, you turned down these offers because leaving the country would result in losing some of your New York business. Later on, you changed your mind about traveling and went to Florida to be part of a television competition called "The Superstars." Pablo didn't want you to go, but you went anyway and met people like Pittsburgh Steeler Lynn Swann, tennis star Billy Jean King, gymnast Cathy Rigby, and others. What was this experience like?
KR: Pablo made fun of going to the Superstars, as he did with most anyone or anything I did besides being with him. I went anyway, as I knew I would be quitting racing that month. I didn't care at that point if I lost my business. Pablo wouldn't go with me, so I asked my mom to come along. We had a lot of fun. I wasn't in it to compete--I had been brainwashed that it was stupid. I went to do something different for once. Lynn Swann, who was one of the commentators, was really nice, and I taught him how to use a whip! The women who were competing (Martina Navratilova and other amazons) were much bigger than me, and I don't believe I would have had a chance to win much even if I had trained for it. I did do well in the golf (winner was "closest to the hole"), even though I had never played golf before! I hit all three balls on the green, but the woman who won hit two in the water and one closest to the hole!
FOTH: After the Superstars was over, did you come to realize that there was more to life than just racing?
KR: After this, no. After my toxic marriage and writing the original manuscript (which twenty-seven years later became my book, Racing With My Shadow), yes. Not only did I figure out all the lies of my past and how it connected to my dysfunctional marriage (to say the least), I was able to homeschool my son and get a whole new education. This included learning good grammar and a writing program, which I taught to homeschoolers at our homeschool co-op. From teaching writing and editing many papers with my students, I got valuable editing skills, which helped me to polish, edit, and publish my book!
FOTH: When you were dating Pablo, you actually retired from racing and left the track cold turkey. Looking back, that must have been one of the hardest things you had to do in your life. How tough was that for you?
KR: It was extremely hard because my whole identity was wrapped up in being a jockey. Pablo (again, not his real name) was very manipulative and did not want me on the racetrack or around other people.
FOTH: I assume sitting around all day was driving you bonkers. You didn't even want to go to the racetrack. At this time, did you get to meet any other female jockeys, even if they shipped in for the day?
KR: No. By this time, my whole life revolved around Pablo (a very successful horse trainer). He had convinced me that everyone at the track hated me. Brainwashed and wanting to please him, I gave everything up. Although he had one of the biggest and most successful stables in the country, he did not want me around the barn or the track. I should have sensed something was terribly wrong, but I didn't.
FOTH: I read in your book that you had problems with your weight. Was this throughout your whole racing career or just at times?
KR: I didn't have a weight problem. I had a body image problem; I had a fear that if I gained weight, I would develop sexually and look like a "woman" instead of a little kid. If I had the body of a woman, I believed it would have made the sexual abuse "my fault." Many jockeys "heave" or "flip" (throw up on demand, which is officially called bulimia) in order to stay light enough to make the required riding weight. Because I did not want to develop sexually, I heaved to stay thin. If you read my autobiography, Racing With My Shadow, you will understand my mindset. Although I didn't realize it at the time, bulimia is very addictive and dangerous to your health. However, as God did so many miracles in my life, He helped me beat food addiction and alcohol addiction in 1990 though prayer and faith alone! And this was almost thirty years ago!
FOTH: When you became aware that "Pablo" (not his real name) had been lying to you about many things, this led to you becoming angry and then suicidality depressed. Was this the darkest point in your life?
KR: Looking back, my life with Pablo was surreal, cult like. I was brainwashed to do anything he said; however, when I realized he was a liar, I got very angry as I felt totally duped. This led to my questioning everything he said or did. When I realized he was a liar, my world shattered. Emotions have no time, so emotionally I went back to the original lies and suicidal feelings of my childhood—only it was more intense as an adult. As a kid I had escaped into my jockey identity; this time, however, there seemed to be no way out. The lies upon lies—all the deception—all the shattered trust issues put me right back to where I was as a kid, only worse. At this time, I did not connect my emotionally abusive childhood to my emotionally abusive marriage.
FOTH: At one point you came back to the track, not actually to ride races, and got a job as a hot walker. How was it going back to the track and was it ever on your mind to ride again?
KR: At this time, I was separating from Pablo and my self-esteem was zero. I had no more direction or purpose in my life. My marriage had failed, my riding career had been over for nearly five years, and I had nothing left to lose. I went back to the track and at this point I only felt capable of walking hots. I had been brainwashed by Pablo and reduced to nothing without him. After I got kicked by a horse, I quit walking hots and was reduced again to less than zero. Of course, Pablo was still in touch with me and helped push me toward suicide.
FOTH: Getting back to your racing career. In 1984, you retired from racing. Fast forward five years when you rode races again. What was it like to race after being away for so long and what made you decide to do this?
KR: I "retired" from being a jockey the end of February, 1984. Pablo (again, not his real identity) told me lies about the people at the track that I had ridden for, good people that I had trusted and respected. Believing him, I thought I would find love and happiness in our marriage. However, it was a sick relationship and ended when I found out the truth about him. When I came back to riding races, it was because I had nothing left to lose. Racing was all I had known, so I figured I would do it again. It helped that I was winning races and was a leading jockey again—but it didn't help with my underlying emotional issues, which had surfaced through my marriage and breakup with Pablo. Eventually, I had to deal with these underlying issues of my childhood abuse and lies in order to overcome the low self-esteem it had created, find the truth, and heal.
FOTH: When you came back to racing, what tracks did you ride at? What was it like winning again after five years?
KR: I wasn't planning on riding races again. I got on a few horses and realized I hadn't lost my touch. Then a man who became my agent (and great friend), Dominic Del Vecchio, encouraged me to ride races again; however, I shared what I had been through personally as I didn't think I was capable. Dominic believed in me—not only as a rider, but as a person—which was where I lacked the confidence. He was a Godsend. I really needed for someone to know what I had been through and still believe in me. Trainers were anxious to put me on horses again, so with Dominic's encouragement, I went ahead and did it. It really wasn't planned; however, it turned out to be a very successful comeback. I rode in New York, but did go out of town when the New York trainers shipped out for stakes races. Those races were in Canada, Massachusetts, Pennsylvania, New Jersey, and Maryland. Winning was great, as usual. Although I did very well in 1989, I had a spill at Belmont in September of that year, and it kept me out of racing for nine more months (having broken my back for the fourth time!).
FOTH: What were some of the biggest differences you noticed in racing in the five years you were away?
KR: When I came back in 1989, it was actually much easier to get good mounts in New York. When I first rode in New York in the early 1980s, it was difficult for jockeys like Jerry Bailey, Donald MacBeth, and myself (leading riders in New Jersey) to get good mounts on this top circuit. The jockey colony in the early 1980s consisted of Angel Cordero, Jacinto Vasquez, Jorge Velasquez, Eddie Maple, Jean Cruguet, Jeff Fell, Jean Luc Samyn, and other well-known riders. These top jockeys rode for the old established racing stables which dominated the New York racing scene. Even so, I made the leading riders list. By 1989, times had definitely changed, and I believe a big part of this was the breakup of the big prestigious stables with the well-bred horses (who only used their big-name jockeys). Many new trainers were on the scene; leading jockeys from out of town tracks like Monmouth Park were now given a chance to do well in New York—jockeys like Chris Antley and Julie Krone. I am not sure about the other tracks, but female jockeys were also much more accepted on the New York circuit when I came back to racing in 1989. When I first came to Aqueduct in 1980, I was the only girl riding races. There were nice female jockey quarters at Aqueduct (made for Robin Smith in the 1970s), but the vast four-bedroom girl jocks room was empty. At that time, Angel Cordero felt sorry for me being all by myself in the girl jocks room between races, so he held a vote for the male jockeys on whether to allow me into their rec room. (All the guys voted yes but one!) A few girl jockeys started riding in New York by 1982 and 1983. When I came back to racing in 1989, not only was it easier for female jockeys in New York—it was easier for male jockeys to break in and get good mounts. I picked up a lot of new stables to ride for and did very well—in fact, as well or better than I had before my "retirement."
FOTH: In your opinion who is the best rider you ever saw and why?
KR: Angel Cordero and Steve Cauthen - for different reasons. Angel Cordero was a very powerful finisher--both in a hand ride and using the whip. Angel also knew everything going on in a race. He was by far the most talented jockey of all time, and I don't believe anyone will ever be better. Steve was extremely talented, too. He had a very light touch and could get horses to run for him. He seat was streamlined, and he was also a very smart rider. Both jockeys had different styles, but I tried to emulate the best of each: the smooth seat of Steve Cauthen—and the strong finish of Angel Cordero.
FOTH: Did you ever get a chance or were you ever offered a mount in any of the three Triple Crown Races?
KR: No. Again, not only is it rare for a female jockey to get a mount in one of these races, it is hard for any jockey to get to ride in a Triple Crown race! Many successful jockeys have not ridden in the Triple Crown races. You have to be lucky enough to have a really good horse and a stable that won't drop you for a "name" rider for one of these prestigious events.
FOTH: When you were riding, were there many other female jockeys?
KR: The first few years I rode (1979, 1980) there were female jockeys doing well at the smaller tracks in Pennsylvania (Keystone, which is now Parx, and also Penn National) and at other tracks in Maryland, Kentucky, New England, and farther west. I take nothing away from those who rode at the smaller tracks! It is often harder to race at smaller tracks than at the big money tracks! The horses can be sour or difficult and the jockeys ride rougher. Starting around 1983, a few female apprentices came on the scene in New York: Marjorie Clayton, Lauren Ayoub, Kim Doran, Therese Powers, and a few others. Therese had done well in Ohio, but the other girls actually started their riding careers in New York—which is hard for any apprentice, male or female. (Most successful New York apprentices already had many wins under their belt before they came to New York to ride.) As well, Mary Russ came for a season to ride in New York as a journeyman. She mainly rode for trainer Roger Laurin, but again, it was New York, and she was used to riding and winning a lot of races in Florida—so she returned there. Julie Krone followed my path from Monmouth Park to the Meadowlands, and also then came to New York. She did very well as the New York trainers were already more receptive to girl jockeys by this time and there were more opportunities for successful out of town riders to do well in New York. After I stopped racing, Rosie Napravnik started her career and did very well, too. She grew up in the same town in New Jersey that I did and started the same way I did—in pony races. We both grew up around horses and lived only a few miles apart. She was an excellent jockey.
FOTH: Did you study the Racing Form for strategy, or did you follow instructions from the trainer?
KR: Both. I always studied the Racing Form meticulously before each race. First, I looked at the past performances of the horse I would ride to see which running style suited him best. Was he more successful racing on the lead or off the pace? Did he have one even pace? Did he have any issues like bearing out or lugging in? Then I would look at the other horses to see how the race might set up. Who had speed, who came from behind, who had speed that could carry, and who had speed that would stop. I then used the program to memorize the colors of the horses to watch for. Orange and green had speed, but let him go—he'll stop. Red colors, don't let him get away on the lead, he keeps going. Who is coming from behind (colors to watch for). Move before him, etc. etc. Sometimes the race set up just as planned, other times I had to adjust accordingly. If there was no pace and I ended up on the lead, I tried to save enough horse for the end. If two others were battling it out on the lead and I also had speed, I would take back behind and sit third. I was also a very good gate rider, which gave me an advantage on speed horses. If you could get out front and relax him on the lead, he had a good chance of having enough left to fend off challengers and win. If you got a bad start on a speed horse, that messed everything up. Most of the time trainers would tell me to ride my own race, so I used my racing strategy; however, at times a trainer might be trying achieve some goal like changing a horse's running style or teaching him to settle and go long—and those instructions always took precedent over my plans. The trick to riding horses was to let them do their thing with the least amount of interference from a rider. Coming out of the gate, grabbing mane with two fingers and leaving slack in the reins allowed a horse to stretch his neck out and if he stumbled, I wouldn't get pulled off. Also, balancing right over his withers as he came out wouldn't hinder his forward momentum. Let them come out of the gate without hindering them, keep them out of trouble in a race, and let them run their best style—whether that is letting them settle comfortably off the pace or not fighting them if they preferred the lead—just allow them to run their race while using the least amount of energy to do it. This way, you had more horse for the finish, when you needed it! Of course, I rode everything to win—no matter the odds according to the Racing Form or the tote board! And if I couldn't win, I rode hard for second, third, or fourth place. If a horse earned a check, it might mean the owner or trainer could pay his bills that month—or whether they could continue on in the game! I never took anything for granted and appreciated every mount I was given.
FOTH: Were you with Pablo when you came back to racing (1989)? What led you to ride races again? Did it feel natural—like you had never been away? As you were older, did you have any weight problems?
KR: I was trying to break away from Pablo. Riding races helped me do this as I had some of my identity back by becoming a successful jockey again. This is when I was able to break it off for good with Pablo (not his real name). However, like I said, I had deep underlying issues from my childhood that I was unaware were still affecting me negatively in my personal life. Once Pablo was out of my life, I realized I had more issues than just him; however, I had no idea what was wrong with me! I did not connect my present condition to my childhood. Even though I was a leading jockey and winning many races, I would drink at night, had anger at my mother, and was feeling suicidal when I wasn't on a horse. It was at this time that I prayed that God would either let me die or show me what was wrong with me. God answered that prayer, beginning with an article I saw revealing that jockey Robbie Davis had been sexually abused as a kid and how it had affected him; this started me on the path to revisit my own painful and suppressed childhood memories. As far as riding races again after so many years, it felt like I had never been away. I didn't have any weight problems. When I was 16-19 years old, I weighed between 95 - 98 pounds. At twenty-seven I weighed between 105-107, which is still light for a jockey.
FOTH: What were your favorite tracks? Did you have a favorite distance to ride?
KR: I loved New York racing. The horses and jockeys were better quality, so there was less chance of getting hurt. In New York, the jockeys rode cleaner and the horses were better. It was also possible to race year-round in New York without having to move each time a meeting ended (as in New Jersey). After experiencing New York racing, I never wanted to ride anywhere else; I loved riding at Aqueduct in the winter, Belmont Park in the spring and fall, and Saratoga in August. Belmont and Saratoga always attracted the top jockeys and horses, back from wintering in Florida or California, so that was fun and challenging, too. Once I rode in New York, that was it for me. I give a lot of credit to the jockeys who ride day in and day out at the smaller tracks; it is more dangerous riding because the jockeys are hungrier and ride rougher in order to win races and make a living (purses are smaller outside New York).
As far as my favorite race to ride, that would be one mile out of the chute at Aqueduct. This race was challenging and fun. Longer than a sprint, yet not quite a distance race, it took perfect timing to win. You needed some speed, yet you had to give your horse a breather since it was longer than a sprint. In a two-turn race, you had to use your horse early for position, or be forced to drop back to save ground into that first turn. At a mile out of the chute, you had a very long run down the backstretch to determine when and where to position and make your move. It was a timing challenge, a strategy that was not possible with a mile around two turns. Another cool thing was that if you stayed out in the middle of the track down the backstretch at Aqueduct, you could use the banking of the track to drop in going into the turn and gain momentum. On the other hand, I did not like riding the one mile and an eighth out of the chute at Belmont. It was too long of a straight turn and horses messed up their leads. Again, the mile at Aqueduct was a timing and strategy challenge. And it was fun. (see win photo)
FOTH: How many injuries have you sustained from riding? How long did these keep you out of action?
KR: I broke my back a total of four times—at four different tracks! The first time was when I was 17 and the leading jockey at Monmouth Park. I broke T-7, T-8, and T-9 from that spill. I was in a body cast and out of racing for six months. I came back to racing in December of 1980. I broke my back again (this time the coxis bone) in March of 1981 at Aqueduct, but they did not find it on the x-ray, so I continued to ride races. I would not advise racing when in pain. Thankfully, the pain went away within a few weeks. Next, I had a spill at Saratoga (August, 1981) in which I had a near death or out-of-body experience (details in my book, Racing With My Shadow). I dislocated my shoulder and broke more vertebrae, as well as other injuries. I was out for another six months. I came back in in January of 1982. These were all injuries before my "retirement" in 1984. I had other broken bones and injuries like a broken ankle, but not anything significant that kept me from racing (I just wore a bigger boot over a bandage). My last bad injury was after my comeback in 1989. This happened at Belmont after the race. I was one of the leading jockeys at the time. My horse was sour. After the race, he bolted to the outside rail and threw me over it onto the pavement. I broke my lower back (L2) and this injury was the worst of all. Because they did not know my back was dislocated as well as a compression fracture of L2, I was in a lot of pain and out for nine months. This injury still bothers me. Broken backs and necks are very common among jockeys who have ridden for any length of time. Some are paralyzed and even killed. I was in a race at Aqueduct and saw a jockey in front and inside of me get run over and killed. This is the risk all jockeys take.
FOTH: During your racing career, did you ever ride in the mid-west or just on the east coast?
KR: Mostly I rode in New York. I started my career in New Jersey, where I did extremely well, and then moved to New York before I lost the bug. After moving to New York permanently, I only rode out of town races for New York trainers. These were all on the east coast.
FOTH: Is it sad to see how the sport is changing, how tracks are closing or adding slot machines in order to stay afloat? Do you think racing will still be around in fifteen or twenty years?
KR: The whole world is rapidly changing, and not for the better. People don't have the values they had back in the day, and that is not just in racing. Many businesses are closing or merging—not just racetracks. It is a microwave society, with technology behind many of the changes. Sadly, fewer people care to experience real horses and jockeys when they can just watch them on a screen. This mentality has permeated our whole culture. Kids—and even adults—rarely spend time outdoors, and most are on their smart phones instead. One day, horse races could be holograms, made to look real, but not real at all. I am glad to have ridden when I did.
FOTH: If you were the general manager of a racetrack, what are some things you would do to get fans to come to the races? Do you think jockeys, both male and female, are some of the most underappreciated athletes?
KR: In order to attract fans, I would make horseracing more personal. I would encourage more publicity for the jockeys, trainers, and horses at that track. If personal stories and struggles were told about the jockeys, horses, and trainers, the fans might feel more connected and want to come to the races to root for them. Social media has a big reach and could be used for this. My personal stories (told in my book and also shared in excerpts on Facebook) have sparked the interest of many fans, and I believe that others from the racetrack have interesting experiences that can be shared, as well. Jockeys are underappreciated as athletes because they are not as well-known as other sports figures, and this is due to the lack of publicity in the mainstream media—or any media, for that matter. Because of the extensive coverage of horse racing in England and other countries, it is a much more popular sport and followed by so many. In Europe, jockeys are stars and are recognized wherever they go. If horseracing is to survive here, the media needs to cover it in a much more personal way.
FOTH: Which trainers did you ride for the most?
KR: When I first came to New York, I rode a lot of races for trainer Bobby Lake. He had mostly claimers, but he was the most instrumental in keeping my career going in New York. I rode for a lot of the little guys with just a few horses. If I had a slow period, I could always count on Bobby Lake to put me on a winner. Frank Wright had a small stable, but he had stakes horses. He put me on a few of those, so that was a boost to my career, as well. Later on in New York I rode for many more top trainers, including Bill Terrill and Jimmy Pascuma. In New Jersey, I rode for almost every trainer. If I had stayed there, I believe I could have been the leading jockey; I was getting all the best mounts. New York was just a much tougher place for jockeys to break into at that time. When I first started racing in New Jersey at age sixteen, trainer J.J. Crupi was instrumental in getting my career going. He put me on a lot of winners. J.J. Crupi's main owner at that time was Peter Shannon. After I went to New York, Julie Krone started riding in New Jersey. As he had done with me, Peter Shannon put Julie on his horses, but his trainer at this time was John Forbes. Owner Peter Shannon was therefore instrumental in the success of my career as well as Julie Krone's career after that. Another interesting point is that Bobby Lake's main owner was Peter Fuller, and I won on many of his horses in New York. Jockey Abby Fuller is his daughter and she went on to have a very successful career riding races in New England. At the time, I was not aware that owners had so much influence; I just assumed it was the trainers who liked to use me! Another aspect of doing well was that in New Jersey I had a top agent in Ed Rubenstein. It was difficult to get a good New York agent, so most of the mounts in New York I got myself—by working hard in the mornings and proving I could do well, even with longshots. As I mentioned, in 1989 it was much easier to get good mounts in New York, and I was once again among the top jockeys there.
FOTH: Did you ever get in any fights or arguments with other jockeys? Do you have any funny jockey stories you care to share?
KR: I never fought with anyone. This was horse racing, not jockey boxing. I rode fair and if someone did something wrong in a race, it stayed there. Things happen in racing, and I left room for others' errors. There were a lot of stories I could tell about certain jockeys, and some are in my book, Racing With My Shadow. I got along really well with the New York jockeys. They treated me like a little sister and looked out for me. Everyone rode clean, except for an occasional inexperienced apprentice, which is what caused my bad spill at Saratoga. In New Jersey there was more jealousy, which made for some friction among that jockey colony.
FOTH: What was the final injury that led you to retire from the sport? Was this a hard decision to make? Did you make it before you fully recovered? Once you retired did you become an exercise rider at all or did you just walk away from the sport?
KR: I broke my back for the fourth time in September, 1989, and it still bothers me. I took Advil when I rode and used a lower back brace. I rode well and was not in any pain riding races—but I knew I couldn't continue to live on Advil. My last injury, when I left the sport, was the end of October, 1990. I shattered my collarbone. It was not a hard decision to make, but I did not tell anyone at the time. I knew because of my chronic back pain and now the shoulder, it was time to walk away while I still could. At this time, I had already healed emotionally from my past as I had started writing my personal story, which turned into my book, Racing With My Shadow. When I got hurt in 1990, I knew I could finish writing it. I did not tell anyone I would not ride again. I just disappeared from the racing scene. I did make the decision before I fully recovered, but the doctors also agreed with my decision to not ride races again. I didn't get on another horse after that.
FOTH: After you retired, what did you do with yourself? Did you have any desire to go back? Did you have trainers try to talk you into riding races again? Did you ever visit the racetrack?
KR: First thing was to finish my book. I had written the first part when I was off for nine months due to my back injury of 1989. It took me another two years to finish it. I had my son soon after that, in 1993. I had no desire to return to racing. I had spent my whole life obsessed with racing, and it was time to do other things. I was a single mom, so that was a full-time job. In addition, when my son was in first grade, God made it clear that I should homeschool him. I did not want to, but after it became clear that this was God's will, I did just that. I met some wonderful homeschool moms and families that encouraged me, and they are still lifelong friends. I had left New York when my son was two and moved back to New Jersey to be around my family. I no longer lived close to the track, and I did not visit it again until my son was eleven years old. I took him to Belmont Park for the Belmont Stakes when Smarty Jones was looking to win the Triple Crown. Smarty Jones was trained by the brother of my New Jersey valet (Jason Servis) so it was fun to run into him. I also took my son into the jocks room.
FOTH: How would you rate yourself as a jockey? Did you have a particular style?
KR: I believe I was a very good jockey. I had the advantage of growing up with horses, so I understood them; I had ridden races since I was a kid, so it was very natural to me. As well, I studied the best jockeys and then rode with the best jockey colony! How can you top that? I tried to emulate Steve Cauthen's style, which was to be very low on a horse. I also copied Angel Cordero's strong finish and use of the whip. I was known as a good gate rider. I had sat by the starting gate all summer long, race after race, at Monmouth Park when I was 15 to study the best way to leave the gate. I think I perfected that art. I was good at getting a horse on the lead right out of the gate, and then relaxing them so they could finish well. I preferred to be on the lead because then I could control the pace of a race; I could slow the pace down so that my horse had something left to finish. Without early speed, you are at the mercy of pace—dictated by the horses up front. I also was able to adjust my style for different types of horses. I found that fillies and mares were best left alone, whereas colts needed more guidance and urging to give you their best effort. Mostly, I kept my horses happy and adjusted my riding to fit their best style of running. A happy horse was a horse who would give you his best effort!
FOTH: If some young girl came up to you and said she wanted to become a jockey, what advice would you give her?
KR: Wow. Well, there are a lot of pitfalls. Expect injuries. Expect to work very hard and be married to racing if you want to succeed. Don't expect to have time for anything else if you want to do well. If you are totally set on riding races and think of nothing else, go with it. It takes a LOT of hard work and dedication. You will get hurt. You will not get the best horses to ride—and, like Russian Roulette, it is not a matter of if, but when you go down. If there is no other alternative in your mind, then you were meant to ride races!
FOTH: Would you ever consider becoming a trainer or a horse owner?
KR: No. I have no interest in training. I was dedicated to riding, and training takes even more dedication and longer hours! I left horse racing to experience and learn about other things in life. Racing had its time; it absolutely saved me. But those days are in my past. Own a horse? Way too expensive. I appreciate those still in the game, however. I will always have a common bond with "racetrackers," and that will never go away. I would never change my past, the good and the bad. It has brought me to where I am today, and that is a very good place.
FOTH: Since you retired, how many times have you been back to the track?
KR: I stopped racing in 1990, but still lived near Belmont Park. When my son was a baby (1993), I went up to Saratoga for the entire meeting. That was fun. However, in 1995 I moved to New Jersey to be around family and didn't visit the track again until my son was 11 years old (2004), and we went to Belmont Park. The next time I went to the track was thirteen years later (2017) when my book, Racing With My Shadow, came out and I did book signings at Monmouth Park, Pimlico, Belmont Park, and Saratoga.
FOTH: How did you get the idea to write this incredible book, and how long did it take you to write it?
KR: After "retiring" from riding races for five years and in a toxic marriage, I was back winning races at Belmont Park again. However, I was depressed, drinking, and angry every night; I started writing what eventually became the original manuscript (1989) to try to figure out what was "wrong" with me. I had left my husband, so I knew he was no longer the problem and someone I could blame. I was winning races, so it wasn't my career. After I saw an article ("The Longest Ride" in Sports Illustrated, March 20, 1989) about jockey Robbie Davis being sexually abused when he was young—and its long-lasting emotional effects—I thought that maybe, like him, my issues were connected to my childhood. I started revisiting the parts of my past that I had long buried and didn't want to remember. It wasn't easy, but talking with my mom and writing was how I did that. In 1990, publisher Simon and Schuster wanted my story, but I wasn't finished writing it. I had stopped writing my story at the point where I had an out-of-body experience from a (1981) spill at Saratoga and didn't know how to write about what had happened at the track that day. As well, I knew Simon and Schuster would make the book about a "female jockey in a man's world," but I wanted the book to be my personal story behind the racing—the abuse that initially propelled me to the top (to escape) and later took me to the bottom (reality). That year (1990), I had yet another spill at Saratoga, and ended up back in the same first aid room where I had the out-of-body experience nine years earlier. Amazingly, the track doctor was the same one who had attended to me that day in 1981! He confirmed that they had "lost me" (no pulse) for a short time. After getting confirmation that I had died and what I saw below in the first aid room while having the out-of-body experience, I knew I could finish writing my story. I had another spill in October of 1990, which ended my career. I finally had the time to finish writing it—a massive 1400-page manuscript! However, it was another 27 years before that manuscript would be edited into a 430-page published book, Racing With My Shadow. I didn't plan it like that—life got in the way—and I believe it was God's timing. The events that took place during those 27 years prepared me to publish the final product, Racing With My Shadow. When my son was seven, God led me to homeschool him. As a single mom, homeschooling had never been in my plans and I balked at the idea. However, God knew best! Through homeschooling, I learned better grammar and writing while teaching my son. When he was 13, we joined a homeschool co-op. Again, it was God that led me to teach writing to other homeschoolers (I did NOT want to teach!). I edited the students' papers with them until they were perfect. All the kids learned how to write and edit—and all got an A in my class. Although I didn't realize the benefit at the time, this process enabled me to edit my own manuscript. My mom was also instrumental in helping me decide which stories and people could be taken out (there were so many); she also chose which photos from my scrapbooks to include in the final draft. Together we designed the meaningful cover of the book, using the 1981 pastel she did of me in the paddock at Belmont Park. The finished product, Racing With My Shadow, was published in 2017. I have done many book signings, been on radio shows, and so far, have 90 five-star reviews on Amazon!
FOTH: Once you started writing this book, how long did it take you, start to finish?
KR: It took about three years to write the original manuscript, which was incredibly long and had many racing stories and people that were eventually cut in the final edit. Over many years, I would work on it awhile, then lose interest, then go back to it again. When my son went off to college, I spent a few more years editing—on and off. It was so incredibly long, I thought I might do the book in five or six episodes. However, when another publisher told me he would publish it as one book if I could cut it down to 500 pages, my mom and I worked on one last edit to get it down to that size. That took about a year. After that, we decided to just publish it ourselves in order to keep the story true to its real message.
FOTH: How did you come up with the title for the book, Racing With My Shadow?
KR: I had the title way back in 1989 when I started my original manuscript. I never strayed from it. My shadow was the secret I held inside from my childhood, the sexual and emotional abuse I had endured. I was led to believe my mother hated me, and I had tremendous guilt and shame. As all kids do, I blamed myself for what happened, and had very low self-esteem as a result. Racing was a way to escape who I was, to find a new "identity" as a successful jockey. This was only a temporary escape, however, a band-aid on a major wound. When I was at my lowest point, I asked God to either let me die or show me what was wrong with me. What I didn't know was that the events I tried so hard to forget and run from (my shadow) were the very things God showed me I had to face in order to be set free.
FOTH: Your book is not just about your life as a jockey, but tells your personal story of the ups and downs experienced as a manipulated child, a successful jockey, and a mind-controlled wife. Because you were healed in the end, your story gives hope to others who have been through similar situations. Was it hard to write the personal parts, knowing the whole world was going to know your secrets?
KR: The reason I wrote my personal story was to understand what happened to me and why I felt the way I did. Once I unraveled the lies of my childhood, I realized the healing power of finding the truth. I knew that my story had to be pertinent to so many other survivors of childhood abuse and unhealthy adult relationships. I realized how unusual it was for me to not only figure out and survive the ordeal, but to be able to write about it. Not only that, I had enough success in racing to spark the interest of the public. My goal in publishing it is and always was to help others. When people read my story, they seem to be able to relate to it and connect the dots of their present to their own past. I can't tell you the number of survivors—actually more men than women—who have reached out to me, told me their own painful stories of abuse, and are finally starting to heal! The loneliness of secrets so many keep inside is the real killer. Talking about what happened to them when they were young and getting affirmation that it was not their fault is so incredibly healing.
FOTH: Your book is over 400 pages!!! Did you realize how long it was when you were finished with it?
KR: Long? It is one quarter of its original size! People have told me it is a page-turner (it is trust me-chris). I believe this is because I cut out all the side trails and unnecessary details; with all the major ups and downs, the reader hardly has time to recover before there is another turn of events!
FOTH: Did you look for many publishers? How did you finally settle on how to publish your book?
KR: The first publisher interested in my manuscript was the big publishing house, Simon and Schuster. That was in 1990—and I wasn't finished writing it. I was also still riding races in New York. I turned them down because I didn't want them to make it about a female jockey and leave the personal story out. I also wanted to write it myself—without a ghost writer or editor. They wanted me to "tell it into a tape recorder" between races as I didn't have time to write. If I has signed with them, I am sure the book would have sold lots of copies—but it would not have been the story as I wanted to tell it. If I had not waited on God's timing (another 27 years!), I would not have had the experience of learning grammar while homeschooling my son, nor of editing, which I did when teaching writing to homeschoolers and helping the students polish their papers. The book in its final form would not have been as well written. Additionally, if I had not waited, there would not have been the option of self-publishing, which is what I ended up doing. During those years, there were other publishers interested in my story, but they either wanted money (vanity publishers), wanted to change the cover, cut the beginning, or other things that were non-negotiable to me. I knew it wasn't the right time. In the end, God had me edit it with my mom. What I didn't know then was that in this process, she would be helped as she was able to see how she had also been manipulated by my abuser. I don't think she realized how manipulative he was to our whole family—and how she was victimized as much or more than I was! Racing With My Shadow is as much her story as it is mine, and together, it not only healed us, but brought us closer than ever before.
FOTH: When you look back on your riding career, were there a few moments that stood out above the rest?
KR: Wow. There were so many. Every winner was memorable. Riding my first professional race at age 16 at Hialeah meant a lot to me; it was my goal to ride professionally by age 16. Winning three races on my 17th birthday at the Meadowlands was also a highlight; Good Morning America had come out to film it, and they even had a cake in the winner's circle for me! Winning four races in a day and becoming the leading rider at Monmouth Park (age 17) was a high point. Getting all the support and flowers from fans when I broke my back at Monmouth Park just a few weeks later was pretty amazing, too. The following summer I won my first stakes race at Belmont Park—nipping Angel Cordero right at the wire. That was a race to remember, and my mom and I decided to use the pastel she did of me in the paddock that day for the cover of my book! Of course, having a near death or out of body experience at Saratoga was the most life changing and lasting of all the racing memories. Because of it, I know that life here is not the end, that we are not our bodies, that it is just a suitcase to keep us here for a while. I also know that life is more than winning races. When I left my body, I did not think once about winning races—which was an obsession when in my body. I only "came back" (to my earthly body) to make amends with my mother. Of course, once back in my body, my perspective turned worldly again—to winning races, and it wasn't until years later that what I experienced in the near death experience would really hit me: What matters most is not what you accomplish in this life, it's who you love. I got a glimpse of an eternal perspective that many never get to experience—and for that, I am forever grateful!
FOTH: Besides Amazon, where are some other places to get your book, Racing With My Shadow?
KR: Amazon is the easiest way to get it. It can also be purchased in bookstores, but you may have to order it.
FOTH: Karen thanks for doing this wonderful interview for my website. Thumbs up for doing it, and hopefully I will get to meet you sometime. Do you have a website or social media where people can find you?
KR: In July of this year, I opened a Facebook account. I have put up quite a few racing excerpts from my book, but you may have to scroll down the page a bit. Here is the link:
https://www.facebook.com/profile.php?id=100039522185823
I also have a website: http://www.racingwithmyshadow.com/


I plan to put more excerpts from the book there. I answer many questions on
quora.com about horseracing, homeschooling, and other topics. Link:


https://www.quora.com/profile/Karen-Rogers-150
If you are interested in my book, here is the direct link to purchase it: https://www.amazon.com/Racing-My-Shadow-Compelling-Americas/dp/1542593360
I can also be reached through Facebook or by email at [email protected]
Thanks for your interest in my story, Chris. You get a thumbs up from me!